Hello fellow ARH SW:Destiny players,
Echo3 here, lead designer on the upcoming ARH expansion, Resurgence. Today we'll be sharing an overview of what to expect from Resurgence, as well as explore a few new cards and themes within the set.
What to Expect?
As this is my third consecutive set as lead designer, I'm hoping that this will round out the best Star Wars trilogy since 1983! Expect to see development of sub-faction themes and mechanics (Charm, exhausting of upgrades, etc), as well as a new keyword.
The arrival of Resurgence also marks a big moment for A Renewed Hope, with the rotation of ARH's first set: Faltering Allegiances. We'll share an updated Holocron in advance of the release, but in the meantime, if you've been thinking about blazing through the meta with Babu Frik, your moment has arrived.
Set Theme
All SW:Destiny releases center around a primary theme with a sprinkling of characters from other Star Wars media. For Resurgence we're hitting Disney+'s fantastic Andor series as our main theme, with support from The Bad Batch, Solo and Tales of the Jedi. Look out for a few 'classic' Star Wars cards too.
Ambitious Agent
For the first Resurgence spoiler, let's take a look at Dedra Meero (RES15). This ISB Agent is hell-bent on chipping away at the enemy while tactically undermining the opponent's strategy with inside knowledge.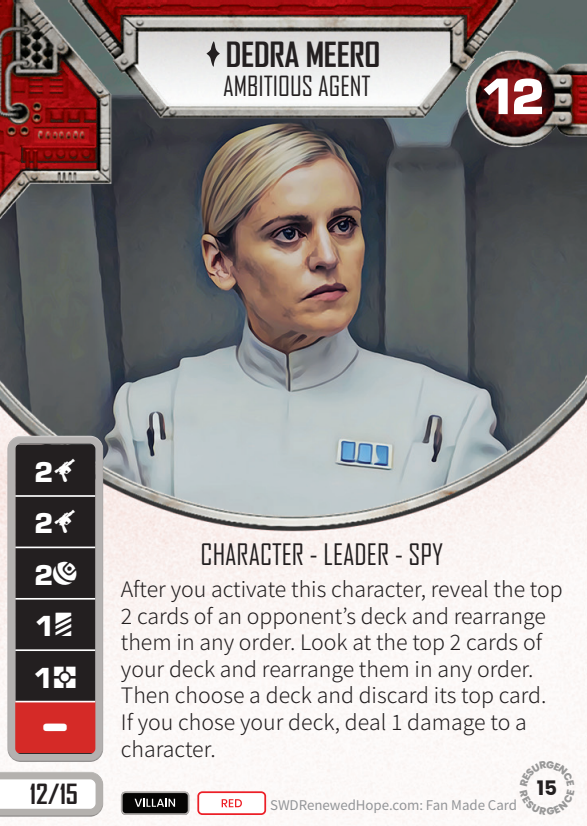 Activating Dedra Meero will allow you to look at upcoming cards for you and for your opponent. With this intel, you might choose to sabotage your opponent's game plan by discarding a crucial card off the top of their deck, or you can weaponize your own deck to inflict damage to your opponent.
Inside the Imperial Security Bureau
Be sure to remember how you decided to stack your own deck, as Uncharted Tactics (RES21) will be a popular inclusion in Red Command decks, especially when you know the cost of that top card.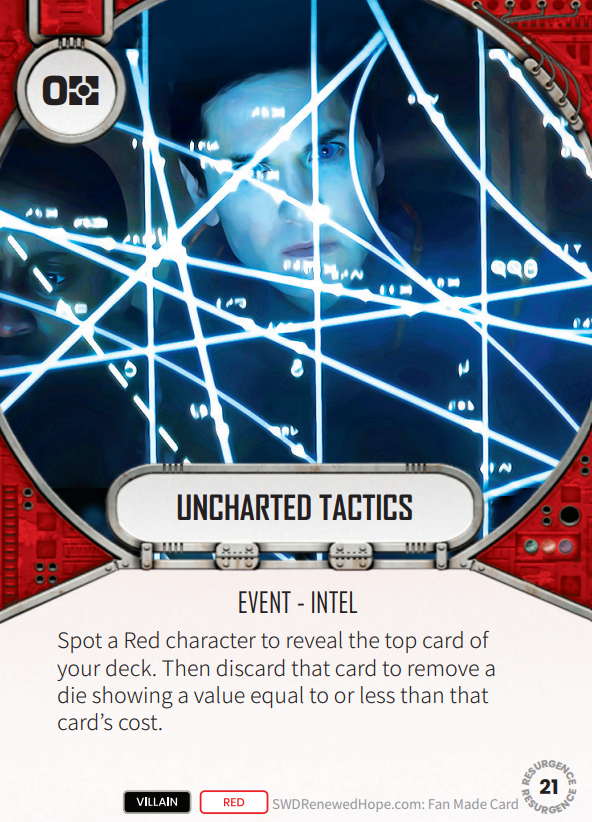 The ISB Central Office (RES25) continues the sub-theme of 'ISB's top deck knowledge.' After activating Dedra Meero, if you have this support in play, you'll be able to deal additional damage and roll a set-aside ISB Agent (FA14) die into your pool to continue the relentless pressure of Imperial power.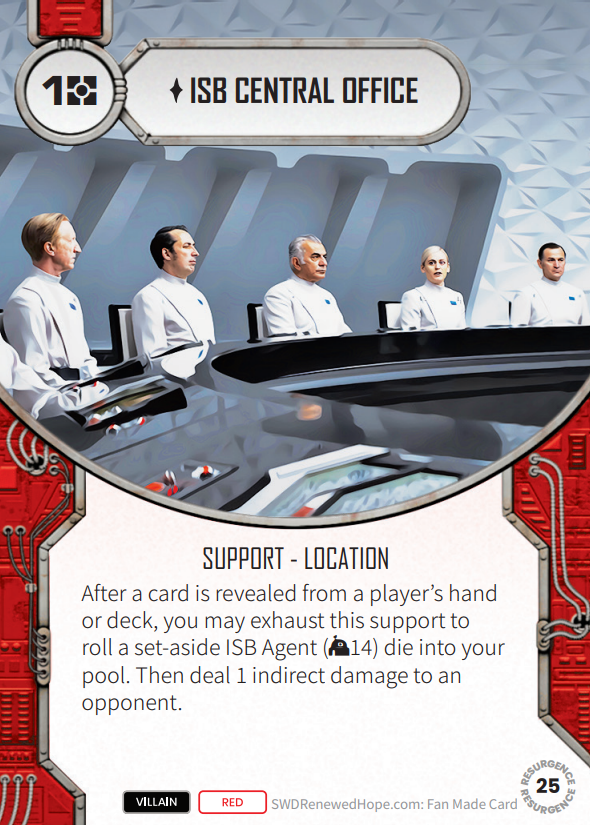 Imperial Rule (RES27) is a 3 cost ability that works in harmony with Dedra's passive ability and is an alternative method for triggering the ISB Central Office if Dedra Meero is defeated by your opponent. After resolution, if your deck is stacked in the correct order, if you reveal a Red Villain card you will be rewarded with an additional damage and be able to draw that card into your hand.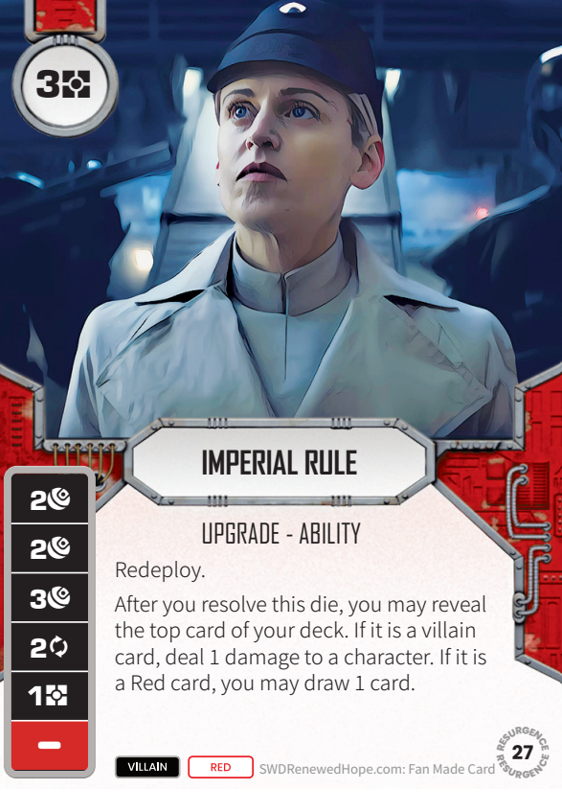 The methods of the ISB are decisive and relentless, and knowledge is everything. Will you play the ISB agents or choose to oppose them?
Resurgence is scheduled for a virtual release on the 13th of June and we'll look forward to celebrating with all of you at the Release Party (details below) on June 17th.
In the meantime, thanks to everyone involved in bringing this set to life and to each of you for making this community so great. Be sure to look out for more spoilers coming soon, and… just roll 3's.
Echo3 out.
Release Party for Resurgence
As is tradition for a new ARH set launch, we are hosting a free release party event. Details are below. We hope to see you there.
Date: Saturday, 17th June, 2023
Time: 10am EDT / 3pm in UK (i.e. GMT+1)
Location: Tabletop Simulator (TTS) in Steam
Registration: https://rollbetter.gg/tournaments/443
Prize: Resurgence Playset – Professionally Printed by Kingwood Hobbies
Support ARH On Patreon
ARH is a completely volunteer, non-profit organization with a single goal: To provide the best possible experience for the continuation of Star Wars: Destiny. If you enjoy our content, please consider supporting us on either Patreon or PayPal.
100% of your contributions will be used for prize support and direct costs to run ARH. We appreciate your support, and may the Force be with you!