We are delighted with how popular our Wave 1 kits have been. It's been truly outstanding to see all the community photos of in-person Destiny play using these kits (keep them coming please)!

Therefore A Renewed Hope is excited to announce Wave 2 of our Local Play Kits (LPK).
Each kit contains 1x Spot Gloss Card (for the winner) and x6 Paper Cards.
For Wave 2 we have another four kits available:
Kallus (LPK #5) – 1x Spot Gloss + 6x Paper Cards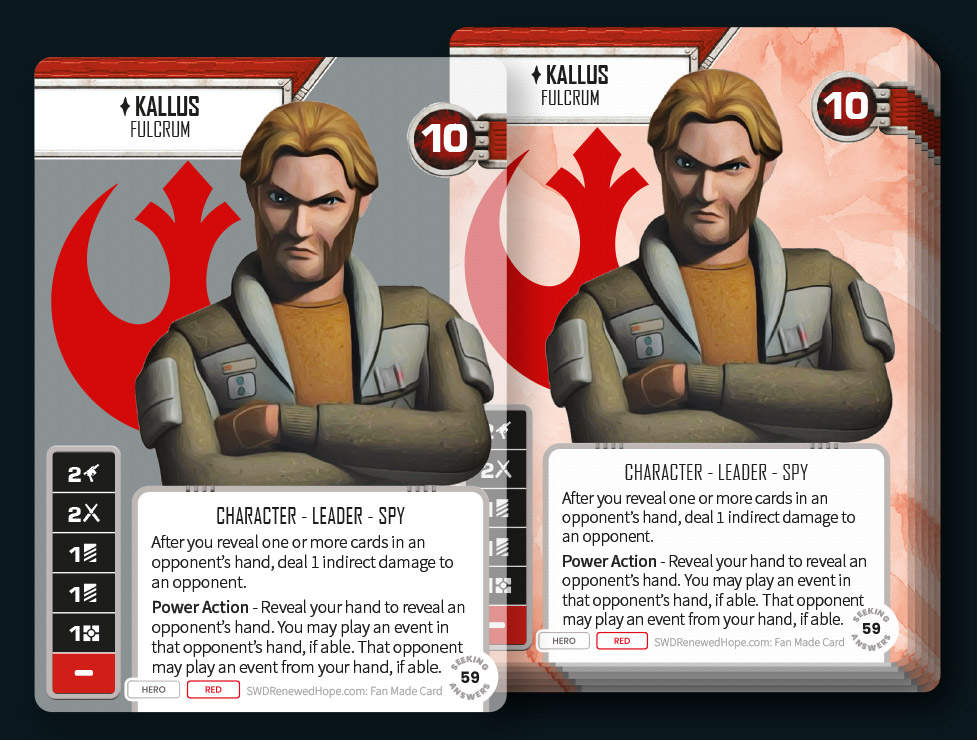 Kallus is exclusive to In-Person Organised Play.
Talzin (LPK #6) – 1x Spot Gloss + 6x Paper Cards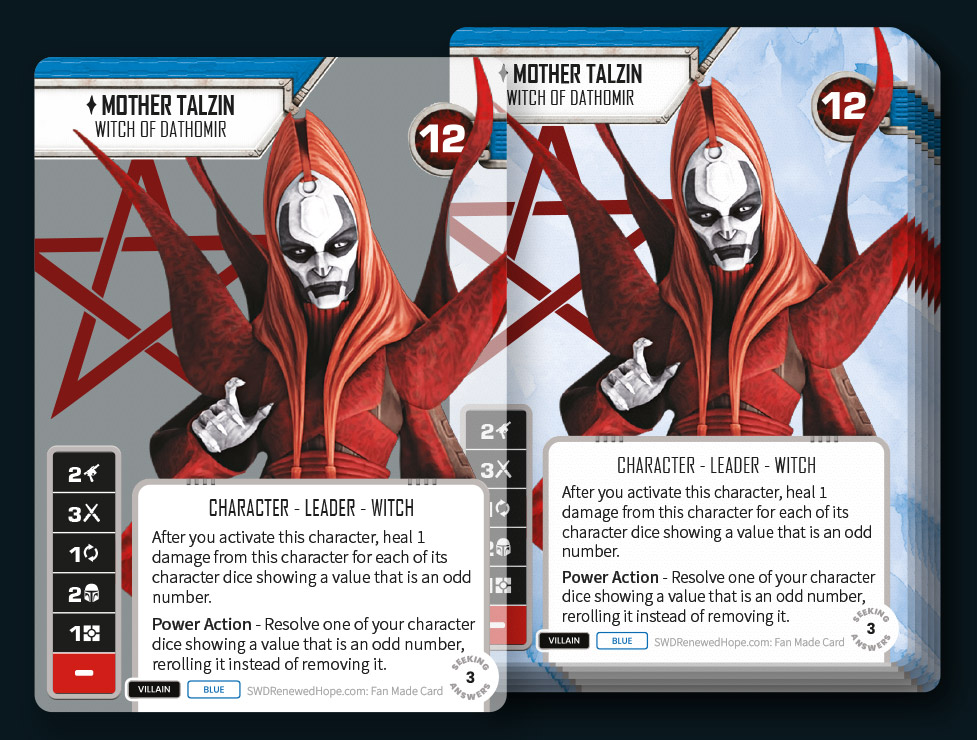 Sabine (LPK #7) – 1x Spot Gloss + 6x Paper Cards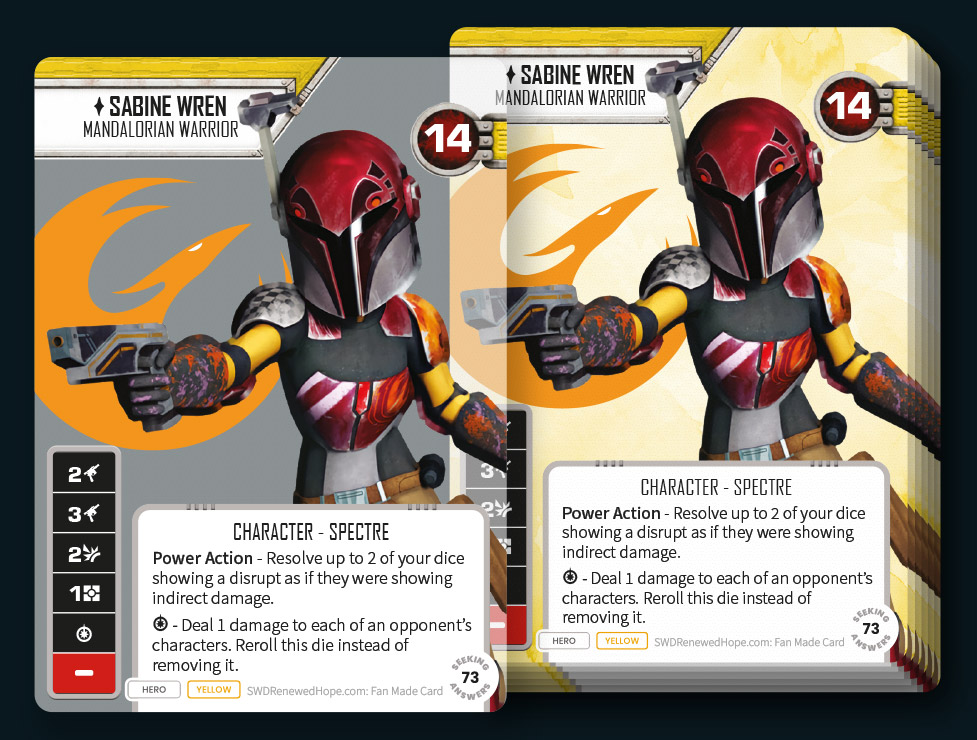 Leia (LPK #8) – 1x Spot Gloss + 6x Paper Cards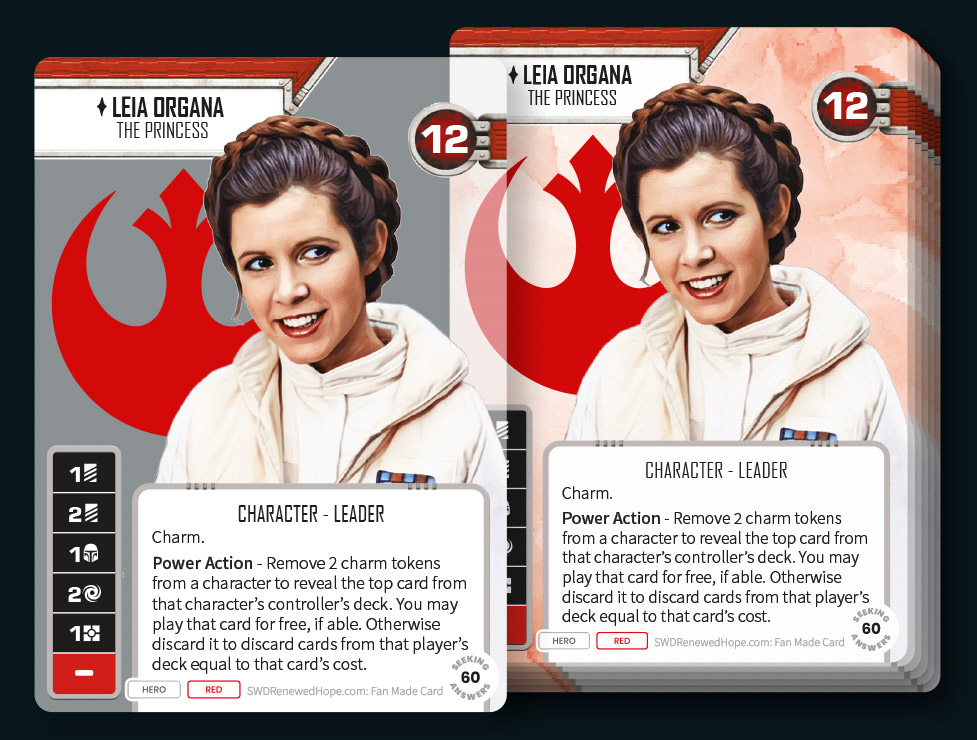 FAQ's
What type of event can I use one of these kits for?
The kit can be used for whatever event type will support your local playgroup. That can be a competitive ARH Standard tournament, or something more casual and thematic.

What's the cost of a kit?
Expect to pay approx $15 per kit shipped. Depending on your location, kits will be shipped from one of our worldwide ARH community leaders.
Based on a local community of 6 players that's just $2.50 per player! Please use the form at the bottom of this page to apply.
What's the criteria to be able to purchase a Local Play Kit (LPK)?
You must show us evidence of an existing playgroup, or intent to start a playgroup where this kit will be used. These kits are not to be used as a way to purchase the cards for individual purposes.
Do I need to use this kit at a games store to qualify?
No. Wherever your playgroup plays SW Destiny we want to support you.
When will these be available?
Shipping from late April, but applications can be submitted now for approval.
Can I order as many kits as I like?
Yes, but we need to distribute these kits fairly across the community. If a certain kit becomes more popular we want as many playgroups to have the opportunity to get their hands on it as possible.
Will there be more kits in the future?
Yes, the plan is to release a wave per ARH set release cycle, previous kits will then be phased out.
Can I still purchase a wave 1 kit?
Yes (find them here) but stock is now very limited, once depleted wave 1 will be phased out.
Apply for your kit
Fill in the form below, and someone from the ARH team will get back to you!
Support ARH On Patreon
ARH is a completely volunteer, non-profit organization with a single goal: To provide the best possible experience for the continuation of Star Wars: Destiny. If you enjoy our content, please consider supporting us on either Patreon or PayPal.
100% of your contributions will be used for prize support and direct costs to run ARH. We appreciate your support, and may the Force be with you!