With the release of our 6th set, Display of Power (DoP), fast approaching on November 25, 2022, we wanted to give the community an opportunity to review the new Holocron. And for those meticulous fans, this gives you time to organize your physical collection and move, for example, some classic FFG cards that are landing on the Echoes of Destiny reprint list into your ARH Standard Legal binder.
Special thanks to echo7 for contributing his thoughts in this article.
Click here: SWD ARH Holocron November 25, 2022
As with other Holocron updates, the text in brown signals something new. Also note – SWD: ARH Database will be updated to reflect the new Holocron effective November 25, 2022.
In today's article, we'll briefly discuss some of the key changes.
Eligible Cards
With the release of DoP, Covert Missions and Transformations will rotate out of the ARH Standard format. Below you will find the eligible sets for ARH Standard effective November 25, 2022.
As you'll note in later sections of this article, however, some Covert Missions cards will remain legal via the Echoes of Destiny reprint list.
Balance of the Force
No major shake-ups to the Balance of the Force as DoP arrives, but Ochi and Soontir are seeing almost no play and we wanted to give them a new lease of life. One card we've cut from the balance list, though, is Zeb. At 13 points elite, he proved too strong. We're putting him back up to 14, but still expect him to see play at that cost.
Zeb Orrelios – Honorable Warrior (Unlikely Heroes #75) has been removed from the Balance of the Force, setting him back to his printed cost of 11/14.
Ochi Of Bestoon – Sith Order Assassin (Seeking Answers #4) has been balanced down to 10/13.
Soontir Fel – Baron Of The Empire (Seeking Answers #4) has been balanced down to 11/14.
Errata
Never before has a card not only been able to pay for itself on the round it was played, but also more than replace itself in your hand. In retrospect, the special on BB-8 proved to be too good. We think this card is still super-playable with a toned down special, and don't forget the die has a resource side if you want to use it for ramp.
BB-8 (Unlikely Heroes #86) has been errata'd as follows: Special should read "Draw a card."
Banned
Cassian has had his time. We've gotten to the point where he is design limiting, and we also thought it nicely appropriate to cancel Cassian in Destiny the very same week as his show, Andor, closes out its first season.
Card draw in Destiny has always been controversial. One-round-kill decks abused card draw back in the day, resulting in a series of card errata by FFG. We have decided that as interesting as Strategic Discipline is as a plot, it's just too open for abuse, and can result in some negative play experiences. We considered various errata but in the end decided the safest move here was to ban the card.
Cassian Andor – Efficient Agent (Faltering Allegiances #40)
Strategic Discipline (Seeking Answers #91)
Subtypes
As we've created the Twi'lek subtype and retroactively added it to old cards, now was the time to fix missing subtypes from other ARH cards, like Fortress Vader, Intel Breach and Slice. These changes might not have a huge effect on gameplay, but it seemed like the right thing to do from a thematic perspective.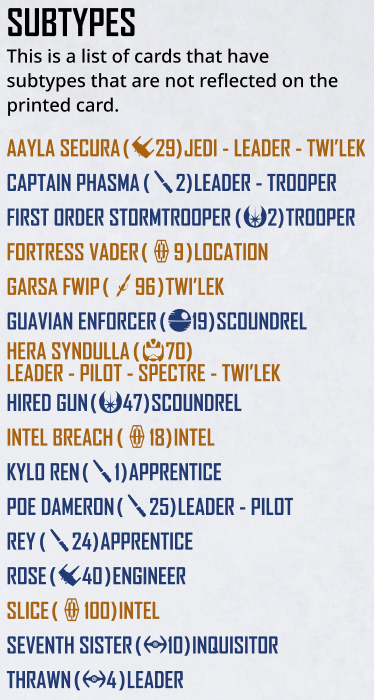 Echoes of Destiny Reprint List
Spectre is back this set, and we thought we'd throw the door wide open to Spectre builds. As such we've added a lot of old Spectres as well as Spectre Cell, Ghost, and As One.
We're continuing to support the piloting mechanic, and it felt appropriate to include the "piloting package," Eject, Assail, Flanked By Wingmen, as well as Refit which we expect to find a place in Hera decks.
Relentless Advance and Commander Pyre is an archetype in itself. We've decided to keep this style of play alive with Pyre, his blaster, Taking Charge, and Cruel Methods on the reprint list.
With the arrival of the Father, Son and Daughter team in Display of Power, we thought it fitting to add Mortis to the list. We're adding the A side, as you cannot start a game with the B side face-up, but of course you may flip this card to the B side during a game.
One more card that is worth highlighting – On Guard, thanks to its ability to ready upgrades, is a welcome support card to the new exhaust an upgrade mechanic found in Display of Power. For more info on this mechanic, take a look at our DoP spoiler season kickoff article. We've also added Jawa Junk Dealer, but sorry Rando Mando, no Utinni!
There's several other cards added to the list, which you can view in your own time. They are all cards that we thought would have a place in certain decks, and we hope you enjoy dusting them off again, or in the case of Covert Missions reprints, not putting them away.
One important thing to notice with this new reprint list – no cards have been removed from the previous iteration. While we originally envisioned the list being comprised of 100 cards at a time, we are open to the idea of evolving and expanding the list when appropriate.
It bears repeating our original philosophy with Echoes of Destiny: To honor the legacy of what's come before and to keep a healthy mix of cards from across the history of SWD, there will always be a solid chunk of classic FFG cards in the ARH Standard format.
Thank you!
Thank you for taking the time to review the changes.
This new Holocron goes into effect with the launch of DoP, November 25th, 2022.
We hope to see you at the release party on December 3, 2022!
Date: Saturday, 3rd December, 2022
Location: Tabletop Simulator (TTS) in Steam
Registration: Click here
Prize: 1st place – Custom playmat with original art donated by Thomas J W Vieanneau aka @darthvienneau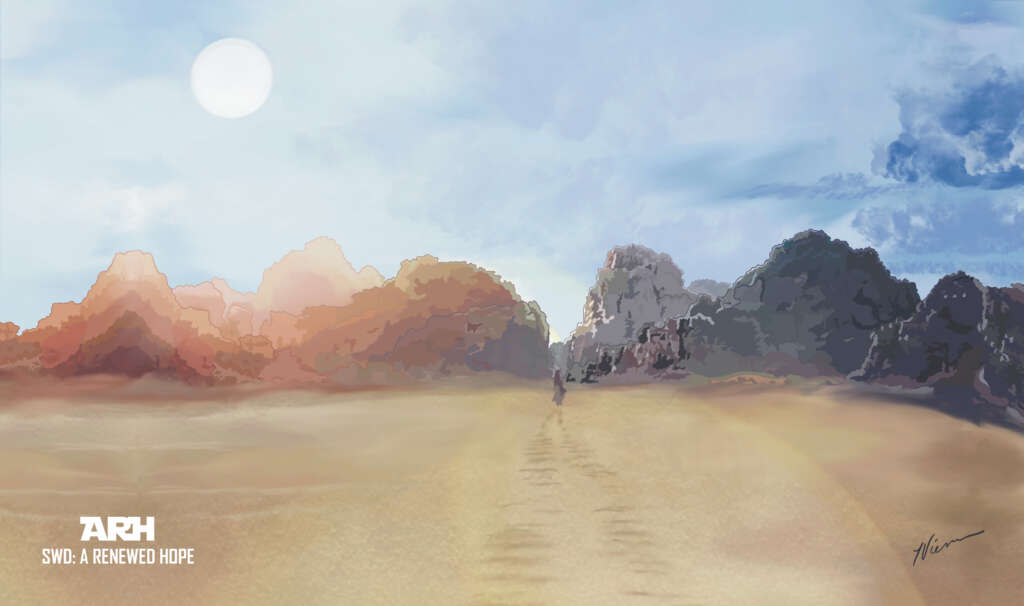 Support ARH On Patreon
ARH is a completely volunteer, non-profit organization with a single goal: To provide the best possible experience for the continuation of Star Wars: Destiny. If you enjoy our content, please consider supporting us on either Patreon or PayPal.
100% of your contributions will be used for prize support and direct costs to run ARH. We appreciate your support, and may the Force be with you!