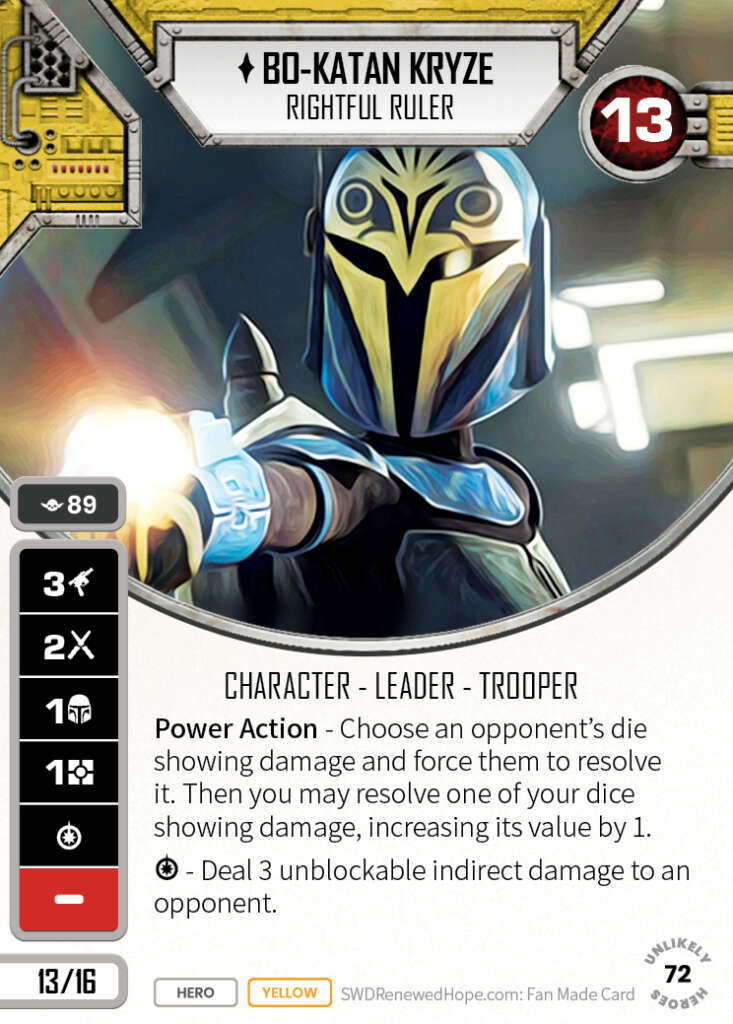 Below you'll find links to download the full set of cards included in Unlikely Heroes. These sheets are arranged in a way to make it as easy as possible to print and play!
Note: These cards are completely free to anyone who wants to play with them.
There are multiple methods by which you can use them, including printing them and placing the card faces on top of old cards. Alternatively, you can print them out on card stock directly. If you elect to go this route, we have included full-bleed versions of the card files, as well as a SWD:ARH official card back to use as you wish. You will find those at the bottom of this page.
Card Files
Instructions for printing cards: The link below will download a PDF file with an image of every card in the set. For best printing results, we suggest the following:
We recommend using Adobe Acrobat Reader, which you can download here.
After downloading the cards (which can be found below the example image just below), open it with Adobe and choose File > Print
On the Print settings page, select "Multiple" under the Page Sizing & Handling section.
On the "Pages per sheet" setting, choose custom and enter 3 by 3
Adobe should automatically fit 9 cards per page onto your page size
Print and enjoy!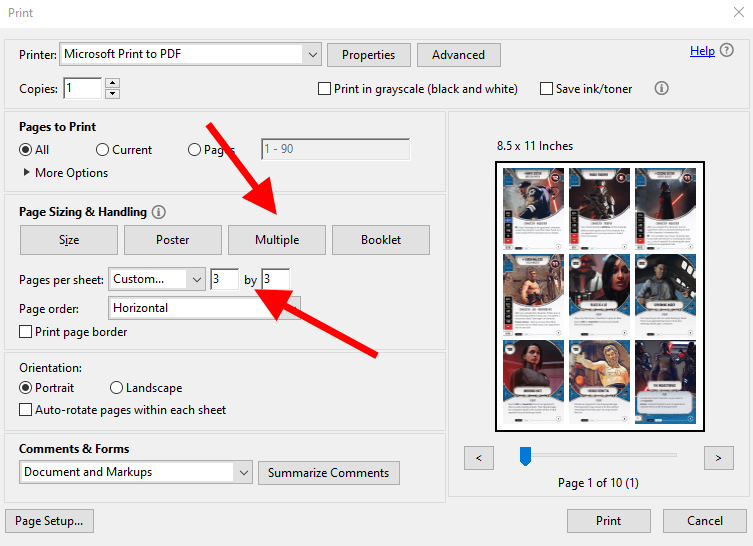 Card Files
Below, you'll find links to download the Unlikely Heroes card set in various languages. The non-English versions were translated by generous volunteers on our team.
These translations were provided by community volunteers. Some changes were made from the original English wordings on the cards for various reasons. When changes were made, every effort was made to keep the intent of the card intact and clear but for rules enforcement purposes the original English wording will be the primary source.
We can't thank our team of volunteers enough for all the hard work put in to bring our set to as many people around the world as possible!
Don't see your language listed here, and want to help bring SWD:ARH to your native language? Reach out to us on our discord and join the team!
English – Unlikely Heroes Print and Play Cards
Official A Renewed Hope Card Back
---
Full Bleed Card Files
If you're looking to get your set of Unlikely Heroes printed professionally, you'll need the "full bleed" version of the cards. You can download those here:
English – Unlikely Heroes Full Bleed Cards
Portuguese – Unlikely Heroes Full Bleed Cards
Spanish – Unlikely Heroes Full Bleed Cards
---
Dice Files
Instructions for using dice stickers: Below you'll find download links for dice sticker files fitted for US Letter and A4 size pages. Here are our recommendations for the best application of these:
Download the correct version for the standard printing size in your region
Print onto full sheets of sticker paper in the Landscape orientation
Cut on the inside of the colored border of each die image (these borders are there to allow for errors in cutting)
Stick onto your dice and enjoy!
Unlikely Heroes Dice Sheets(US Letter)
Unlikely Heroes Dice Sheets (A4)
Extra notes for use of dice stickers
We recommend either using old, unused Destiny dice or purchasing blank dice of the same type. A Renewed Hope doesn't sell these dice directly, but there are various retailers that you can purchase from, which you should be able to find via a Google search.
If you don't wish to cut each die side manually, you can also use a hole punch for clean, accurate cuts. 17mm is the preferred size to use, but anything +/- 1 mm should work as well.
In addition, while exact placement of each die side is mostly irrelevant, if you want to follow standard procedure for Destiny dice, here are the "rules" to keep in mind:
The 1 & 3 die sides should be on opposite sides from each other
The 2 & 4 die sides should be on opposite sides from each other
The 5 & 6 die sides should be on opposite sides from each other
Support ARH On Patreon
ARH is a completely volunteer, non-profit organization with a single goal: To provide the best possible experience for the continuation of Star Wars: Destiny. If you enjoy our content, please consider supporting us on either Patreon or PayPal.
100% of your contributions will be used for prize support and direct costs to run ARH. We appreciate your support, and may the Force be with you!