Resurgence – the 7th set from A Renewed Hope – launches this week and along with it comes a new Holocron to govern the ARH Standard format.
You can find the new Holocron HERE
As with other Holocron updates, the text in brown signals something new. The SWD: ARH Database will be updated to reflect the new Holocron effective June 13, 2023.
In today's article, we'll briefly discuss some of the key changes.
Eligible Cards
The release of Resurgence triggers a rotation of an ARH set – Faltering Allegiances – for the first time.  Below you will find the eligible sets for ARH Standard effective June 13, 2023.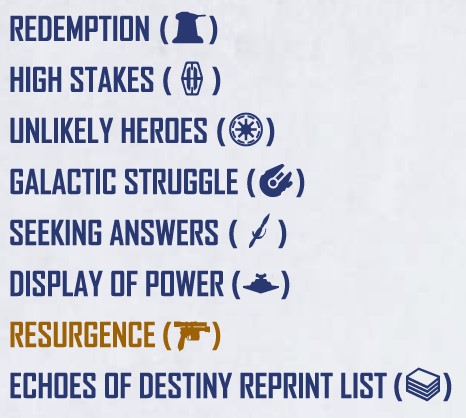 Balance of the Force
By every indication, the meta is as healthy as it has ever been, so we've chosen to make only a couple of balance adjustments as we launch Resurgence.
Qui-Gon Jinn – Venerable Maverick (Redemption #44) is a big blue that appears only rarely in today's gameplay. With a number of new shield-related tools in Resurgence, Qui-Gon has been balanced down -1/-1 to 14/18 in hopes of supporting some new pairings.
In many ways, Obi-Wan – Jedi Guardian (Display of Power #45) has been one of the brightest stars of the Display of Power meta. By balancing him up +1/+1 to 14/16, we hope the community will explore new ways to maximize his strengths while limiting his most common partners: Aayla – Jedi General, The Daughter, and old man Luke Skywalker – Reluctant Instructor.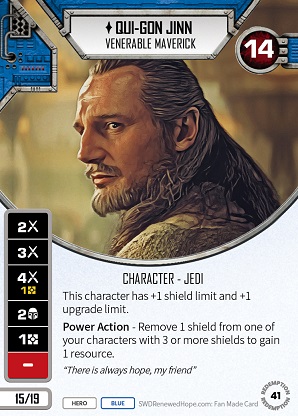 Echoes of Destiny Reprint List
With a healthy meta and 116 new cards arriving with Resurgence, we're adding only 10 cards to the Echoes of Destiny list.
Members of the ARH team have very much enjoyed the dialogue about whether to include any Faltering Allegiances cards (and which ones!) on the Echoes list. The range of perspectives is a tremendous demonstration of the community's knowledge and diversity, and mirrored the vigorous discussions we had internally. That said, although we will always leave the door open for including ARH cards on the Echoes list, we've leaned towards the elegance of an FA-less meta as we release Resurgence. Farewell, Vibrosword-wielding Babu Frik!
Note: we are also not removing anything from the Echoes list at this time so Faltering Allegiances cards are the only ones you'll need to pull out of your ARH Standard binder.
As for the cards themselves, the Echoes list is first and foremost intended to enhance and support the mechanics of the set while honoring the game's FFG origins. That means we're excited for you to discover synergies that these additions make possible.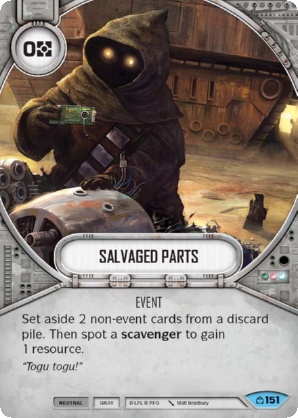 For example, Canto Bight Security and Salvaged Parts boost interaction with the discard pile – a mechanic we're exploring more deeply with Resurgence. 
With the arrival of the Bad Batch on the scene, we're augmenting the Trooper toolkit with Resistance Trench Fighter and the EL-16 Heavy Field Blaster, while Witches will appreciate the return of Ancient Magicks.
Slave I (CM #50), Imperialis, and Enfys Nest's Electro-Ripper all support a specific Resurgence character (spoiler alert!), while Dangerous Maneuver and One with the Force support archetypes that we've been building over time.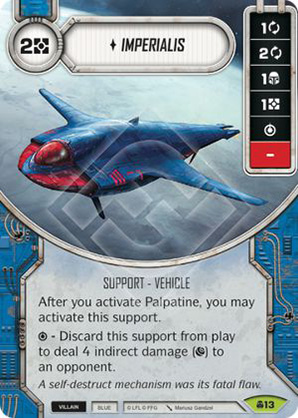 Resurgence Week Starts Now
Thanks for taking the time to absorb the changes and for all you do to make this community special. We can't wait to see you across the table as we break out Resurgence for the first time this week!
If you haven't already, please take a minute to sign up for the FREE release tournament this Saturday.
Date: Saturday, 17th June, 2023
Time: 10am EDT / 3pm in UK (i.e. GMT+1)
Location: Tabletop Simulator (TTS) in Steam
Registration:  https://rollbetter.gg/tournaments/443
Prize: Resurgence Playset – Professionally Printed by Kingwood Hobbies
Support ARH On Patreon
ARH is a completely volunteer, non-profit organization with a single goal: To provide the best possible experience for the continuation of Star Wars: Destiny. If you enjoy our content, please consider supporting us on either Patreon or PayPal.
100% of your contributions will be used for prize support and direct costs to run ARH. We appreciate your support, and may the Force be with you!