In a busy fall of in-person Destiny events (Toronto, Wisconsin, Montgomery, oh my!), Prime Weekend at Silver Sun games certainly raised the bar for the entire community – hosting a three event bonanza that drew players from around the world.
In this jumbo issue of the Mos Eisley Gazette, we're catching some behind-the-scenes insights with our hosts, digging into deck tech with top players, exploring how Asajj and Bossk managed to reach the summit of Mt. Destin-lympus, and wondering if there are still Jawas wandering around Montgomery with a sack full of toasters.
Note: although we hope you enjoy the recaps below, we also strongly recommend checking out the gorgeous streaming setup on Scum & Destiny's snazzy new YouTube channel HERE
Silver Sun Games: Destiny Mecca
If you've been paying attention over the past few years, you've probably noticed that Silver Sun Games (Montgomery, New York) has become a global bright spot for in-person play.
Fueled by Jim the TANK's love for the game (and snazzy team swag!), PatrickPE's mad scientist deck-brewing, and a stalwart group of experienced FFG-era players willing to explore ARH, the Scum and Destiny team has definitely earned the "new mecca of Star Wars Destiny" title. For a refresher on some of the origins of this wretched hive, check out THIS back issue of the Gazette.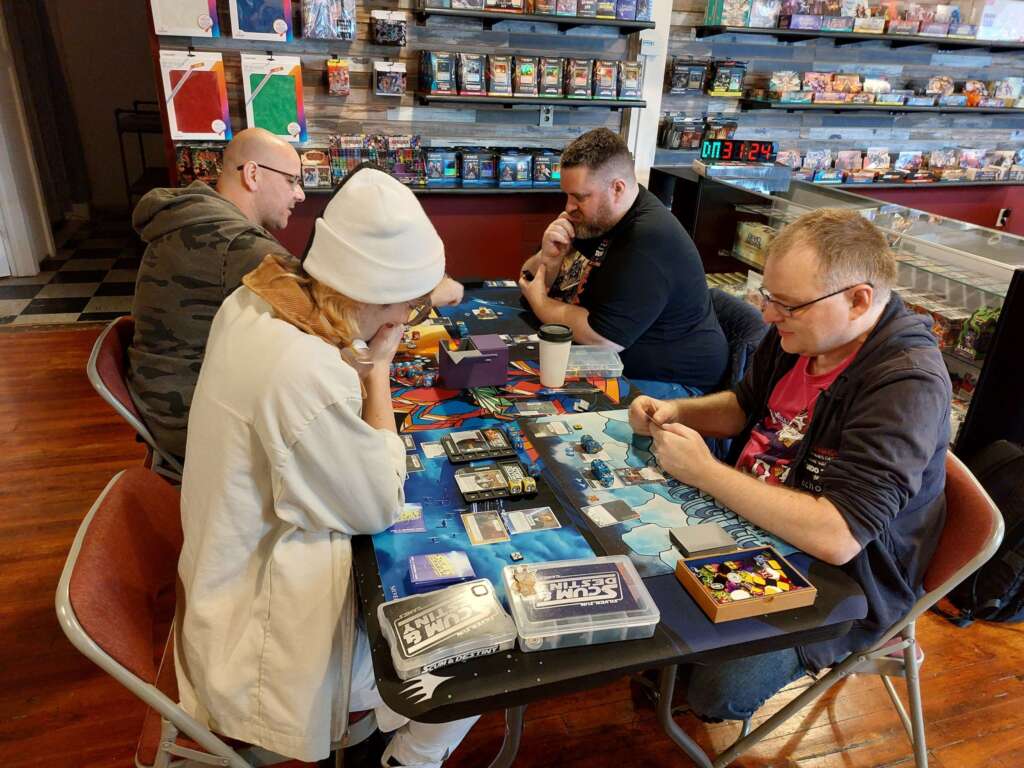 Without a home, though, these players would be wandering around the galaxy. To set the stage for the weekend, we're starting off our coverage with Chris: Silver Sun's owner and the visionary behind Prime Weekend.
What's your SW Destiny origin story? What brought you to this game and how has it evolved?
I started playing with Spirit of Rebellion and the original FFG sets. I got firsthand exposure to Vader/Raider, Poe/Maz, and Double Force Speed specials! What set Destiny apart from other games being played was the big chunky dice. The colors were bright and that dice rolling sound always got people's attention. I personally loved the combination of luck (dice rolling) and skill (deck building) that did a good job of making a level playing field. Sometimes you have everything set up perfectly and your opponent rolls 12 damage that you can't remove. The game was always easy to learn and fun to play. Having a loyal and dedicated Continuation Committee has kept this going while introducing new mechanics and playstyles that keep Destiny fresh. I always tell people if you like Star Wars you will like Destiny because you get to play with the characters, ships, and weapons that you see in the movies.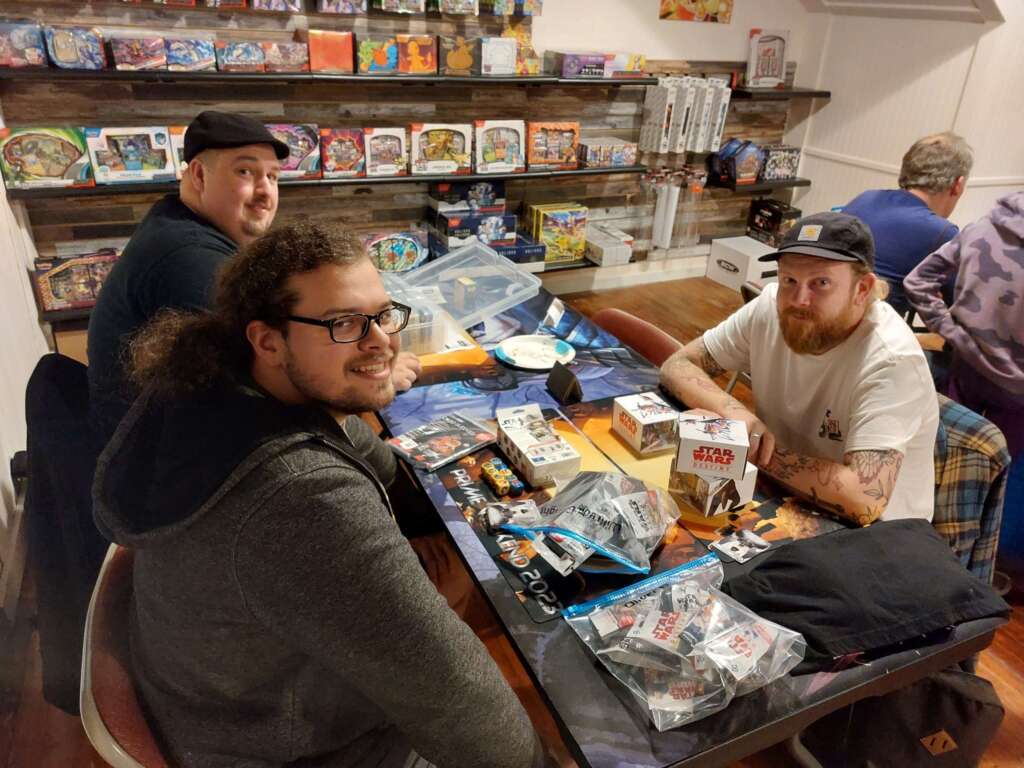 The new store looks gorgeous! Could you share a history of the space and your decision to transform it into the new Silver Sun?
We are in a historic village (Montgomery, NY) and there are lot of old buildings with character and charm.  We had been doing well and growing in our original location when our current location unexpectedly popped up for lease.  The new place has such a great look with a rustic feel.  I love the load bearing beams throughout which are actually trees!  Prior to us it was used as a graphic design company with a coffee bar.  We kept the bar and will be finishing it out to be used for a little coffee/bakery on the weekends.  There is plenty of space for people to shop, play, eat, or just sit and relax without getting in the way of each other.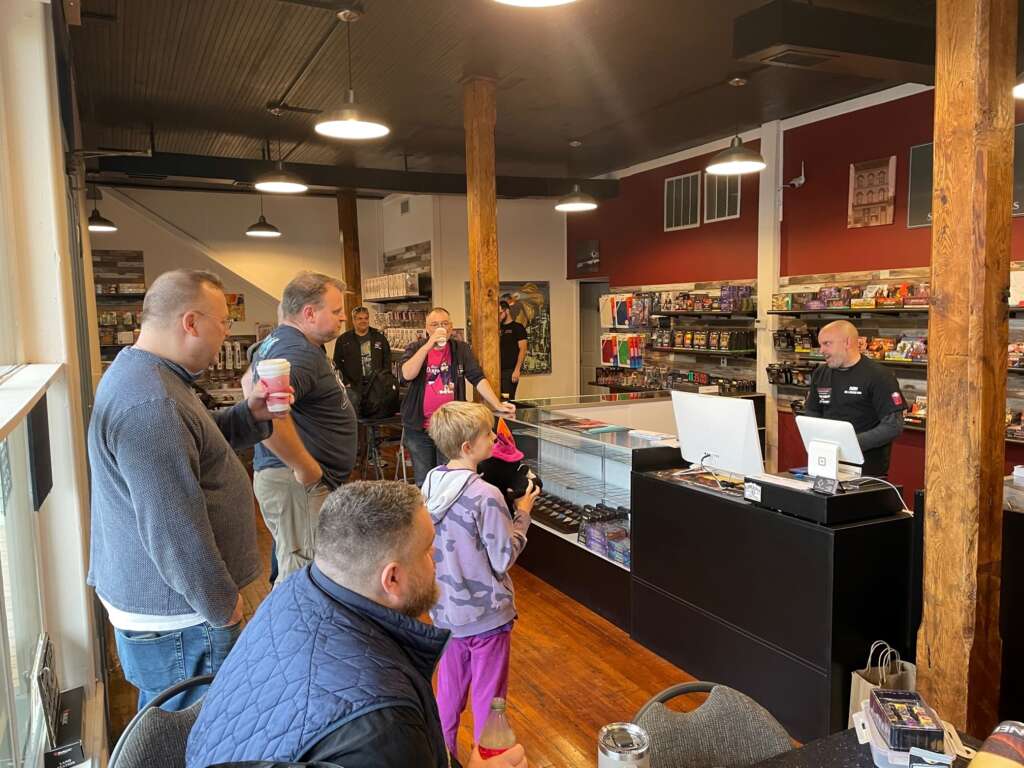 I try to be a Community Game Store (CGS) instead of the traditional Local Game Store (LGS).  We are a sponsor for the Montgomery Little League, we work with the local elementary school, and we coordinate with other business owners whenever possible. My strategy has always been on building player-bases for all of our games that focus on being social and fun over being super competitive.  I want you to look forward to coming here and seeing the other players win or lose.  Those groups are always the most welcoming to new players who eventually become regular players. 
Tell us about the origin story for this event. What was the initial vision and what was the moment you realized it was going to be BIG?
To me it was big as soon as we were approved for the Prime.  Last year our Prime was a one day event.  I wanted to expand that this year to make it worth people's time to travel out here.  This is where the "Prime Weekend" title came from.  I had different ideas about event days/times/structures and settled on what I thought would be the best for the players who were driving and flying in.  I think the hype and friendly peer pressure the ARH community was building at Gen Con and on Discord helped grow the event as more and more people were booking hotels, Airbnbs, flight tickets, etc.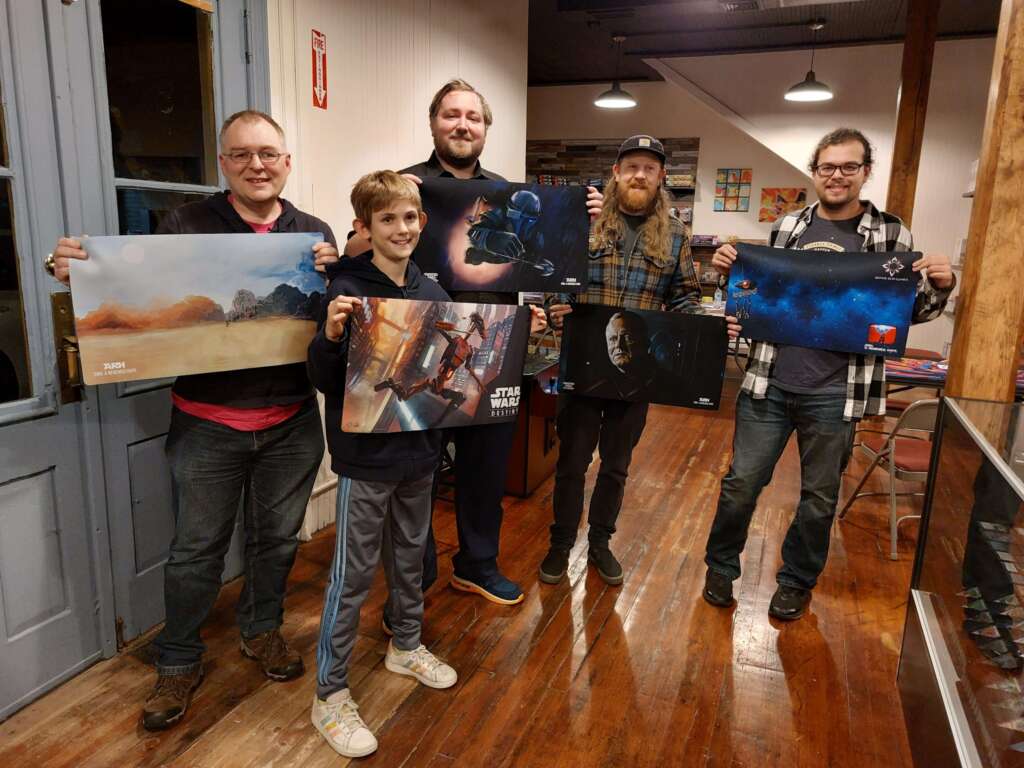 In addition to the Prime, you included a couple of other unique events. Why FFG Super Sealed and ARH Singleton?
I knew the Prime was going to be competitive and tough so I wanted to make sure any other events were on the lighter side.  It was important for them to be unique but still worth paying an entry fee for. 
FFG Sealed was something we were fortunate to run.  TANK helped secure a sealed box of Covert Missions to ensure that all 9 packs players opened were from sealed boxes.  It paid off too as so many different legendaries were pulled. Some players did not get to play Destiny during the FFG days, so this gave them the chance to crack a pack from every set and build a deck with them all in one event. 
The Singleton event came from the Solidarity plot, but as usual we wanted our own twist – ban the plot and have all decks follow the Singleton rule.  This now allows multi-colored teams and other plots to be used.  I knew there was interest in the number of questions and messages I received after announcing it.  Players were skeptical but in the end I feel they enjoyed the challenge of building decks they normally wouldn't. I also wanted players to have a different deck for each event – mission accomplished.
Kudos to Elrathion for going 4-0 in each of these events. He was actually the only player not to lose a round throughout the weekend since he was feeling under the weather for the ARH Prime event. Kudos too to LandoWonka who logged his 2,000th game of Destiny (yes, he tracks every board and cardgame he plays…) during the Prime Weekend.
Stormtroopers and jawas were patrolling the village throughout the weekend. What should we know about them?!?
The 501st Empire City Garrison is a charity organization here in New York that makes appearances in full Star Wars costume.  Different characters appear based on availability, and we were able to have Stormtroopers, Jawas, Sith, and even Wedge on hand to make sure everything was in order. The best part was that it was all in secret. None of the players knew and I specifically asked the 501st NOT to promote it on their event calendar or any social media. When fully dressed they marched up the street, into the shop, and patrolled the tables. Jawas trying to steal tokens, lightsabers being spun, identification being asked for all during the final round of Swiss.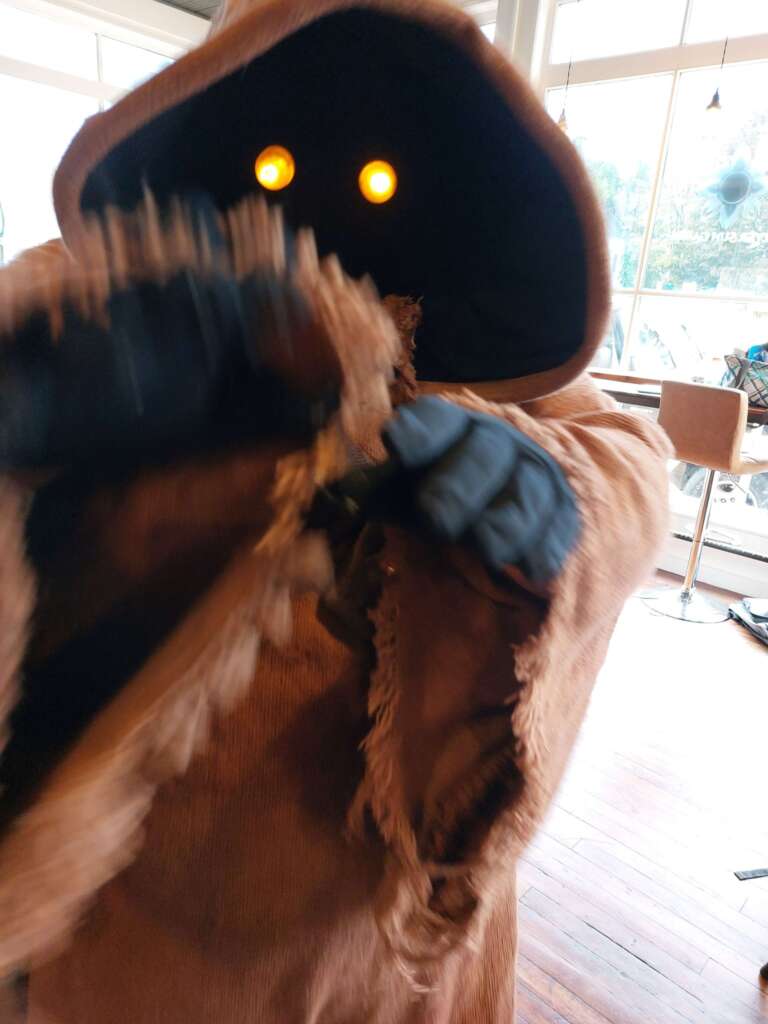 While the initial surprise was great, I knew the round was important to a lot of players for their final placement so I sent 501st on patrol to harass other village business owners. You always have to look for ways to stand out and to me it's the little things that normally are not related to the event itself. The Destiny gameplay was going to be solid regardless, but things like the ARH foamboard everyone signed, the "High Ground" cake, and the 501st appearance will always be mentioned.  It was a great touch and I'm happy with how it went.  A donation to their charity was well worth it.
The weekend was a gift for everyone involved. What are a couple of favorite moments from your highlight reel?
Hands down getting to meet and see everyone in person. For me, most of my interaction with the ARH players is through Discord so having the chance to meet face to face and have everyone in the shop for the weekend was memorable. I think Majobasil would agree that it is a totally different perspective hosting an event because you have to prepare for everything, have contingency plans, put together a structure, and ultimately deliver a product that the players feel was worth their time and money.  On top of that is the pressure of having not only some of the top players in the world but also the leaders of ARH on hand.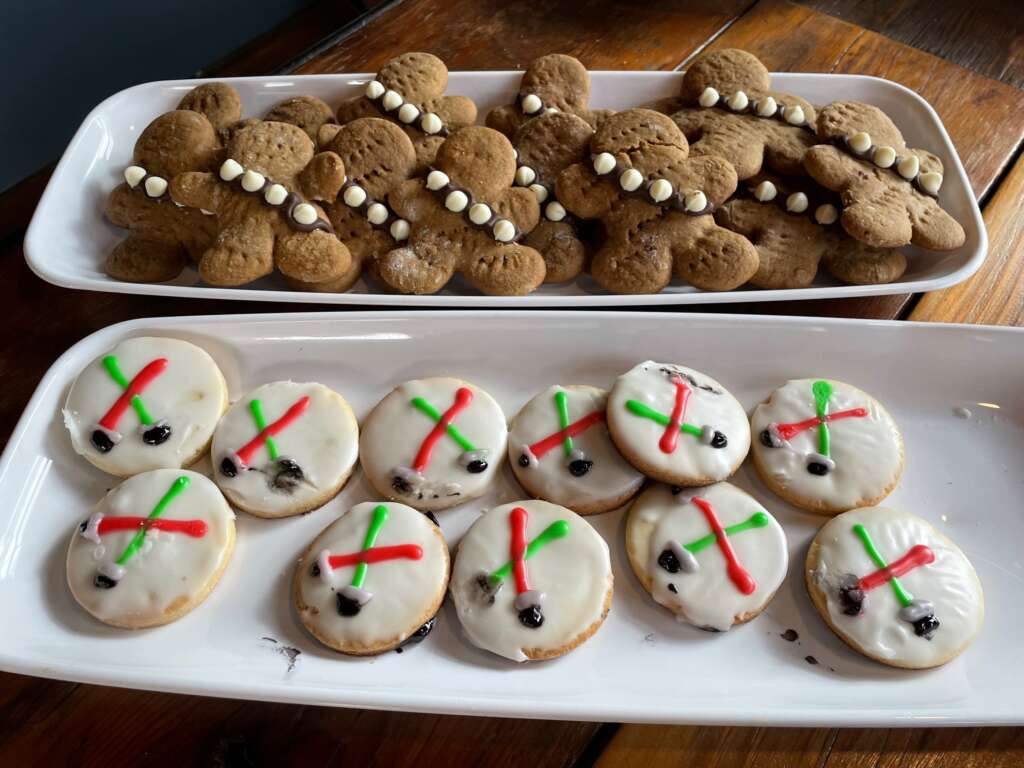 I had a great time at the group dinner Saturday night getting to talk to everyone. I enjoyed the challenge and woke up Monday morning happy with how everything went. I'll spend the next week figuring out what I thought could have been better, most of it being things no one would be aware of. It is extremely rare when the store cancels all events for an entire weekend to focus on one thing and spending 3 straight days with everyone rolling dice is a big highlight for me this year. I would love the opportunity to host another Prime and see everyone again in 2024.
Pre-Tournament Prep and Deck-Tech
The ARH Prime used an unconventional "top 6" format, which created an opportunity for two more players to make the Top Cut as "wild cards" and an extra incentive to finish in the top 2 spots for a bye directly to the semis. For the rest of the coverage, we'll hear from those top 6 players on their approach to the event.
Leading up to the event, what did you expect to see and how did that influence your ultimate deck choice?
Darteo: I expected to see a ton of blue ability throughout the tournament and maybe a little bit of yellow villain. With this knowledge I decided to play with Talzin because she has a ton of rapid heal and can do a ton of damage output.
Echo3ofClubs: Not knowing the local meta I had no idea what to expect so I stuck to my usual game plan of Yellow Villain.
Duncan: I didn't expect anything at all! I'm not too aware of meta decks, but I always expect a lot of fiddly decks with a lot of triggers and pings. My choice was to go with what I feel comfortable with… killing as soon as possible is the best form of defense, and fighting through the tricks my opponent has. I didn't expect to go beyond Swiss.
Majobasil: Hosting five Destiny events on behalf of ARH at Gen Con Indy 2023 was a great honor but also a lot of responsibility.  I put a lot of pressure on myself to make sure logistics were set, prizes were lined up, tournament rounds went smoothly, and the community had a great experience overall, all on the grandest stage in gaming. I had been looking forward to the SilverSun Renewed Prime for precisely the opposite reason – so I could kick back and just be a player. Leading up to the SilverSun Prime, I made sure to play in the ARH monthly league as much as I could.  I was not concerned in the least with the bonus point for playing a unique deck, so I just got reps with the couple of decks I thought may be solid contenders in the Prime.  The league was also a great opportunity to see what decks were circulating in the meta. I had success with the ISBs (Dedra Meero and Major Partagaz) and seriously contemplated playing them. If piloted well, they are very strong and disruptive while also dishing out a fair amount of damage, and will catch opponents off guard. But I ultimately selected blue villain since it's what I have the most reps with and enjoy the most.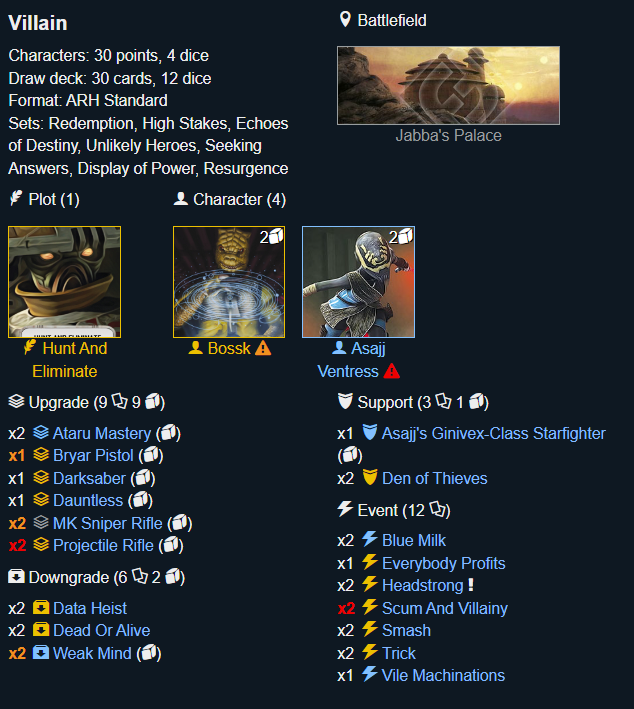 Casero: I knew Echo3 would be playing Yellow Villain (duh) and that TANK would have something spicy, but otherwise assumed we'd see a mix of things I typically see in the ARH League, Dice Commando monthlies, and Echobase weeklies. That means blue hero shield walls (looking at you Yaddle!), Blue/Red villain with Palpatine and a big, and maybe some of the other bigs like 3-die Mando, Black Krrsantan and Allya. I decided I wanted to solve for those shield walls, so decided to build in as much unblockable damage as possible.
Patrick: My favorite aspect of ARH is that the game is truly democratic in the sense that all of the cards are available to all of the players. We are not chasing rare cards or limited in our imaginations of combinations or mechanics due to availability. It creates a wide field of play styles with no one really copying someone else, or being locked into playing a dominant meta. I expected a lot of character combinations, and was pleased to see what everyone brought. It really was a weird fluke that Bossk/Asakk/Hunt them Down was the only repeat set-up, and we ended up 1-2. 
Which deck did you play and why?  What were the last cards to make the list?  What was card 31 that you wish you could have included?
Darteo: I played Mother Talzin (Seeking Answers) and Palpatine (Resurgence ) with Fortified Position because I wanted to try Blue/Red Abilities but not with Vader. After looking through all the options this one seemed like a good choice because it has a lot of damage output and constant healing. The last card to make the list was Force Concealment because I didn't think I would be playing slowly enough for it to work. If I could have included one more card it would have been Fire Across The Galaxy for cheap removal (especially at end of a round) and giving Palpatine something to blank with his PA.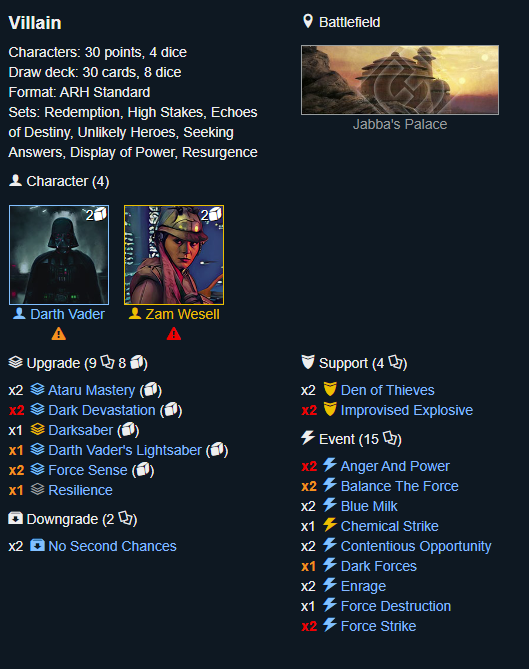 Duncan: I played big Vader with Zam Wessel as an inquisitor. It's pretty much the 2v2 deck Rando Mando and I played for Gen Con. I either wanted to play Qui-Gon Jin with Greed Can be a Powerful Ally which I thought would be brutal, but Rando suggested Zam with No Second Chances and came up with a cool set of cards to work with it. We went with Zam for the 2v2 and had such a blast, and won both our matches. But I felt the deck had more to it and still was under the radar, so I brought it out to NY to have more fun with it. Resilience was the last card I added, since even though Vader has an inbuilt punishment for removal, I thought if he does get both dice removed then No Second Chances is out of reach and I lose. I wish I'd had Through Power, Gain Strength or Lightsaber Throw. Any damage from nowhere, or damage increase as a surprise would have been good, as removal wasn't needed so much when you can kill so quick.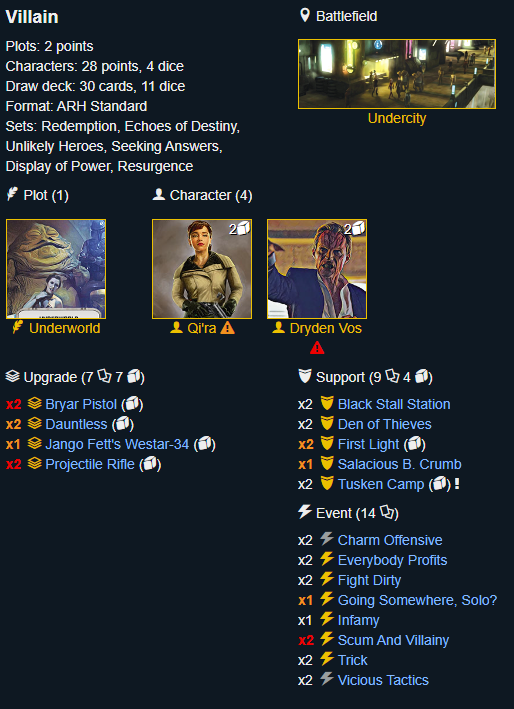 Echo3ofClubs: Qi'ra, Dryden Vos (RES) and the Underworld plot. Yellow villain is my bag, and I've had the most success recently playing this pairing. I love it for the triggers and theme, and there are many ways to build it. There were actually quite a few cards that just didn't hit the table in across the weekend, so in hindsight would say I'd remove Black Stall Station, Jango's Westar and Infamy and go for a bit more mitigation in events and also bring back The Hylobon Enforcers. 
Casero: With unblockable damage on my mind, I revisited Asajj/Bossk, one of the first decks I built after Resurgence release. Darteo actually ran a version to 4-1 in the release tourney and I saw ThatWookieeSmell do something similar in a recent Dice Commando monthly, so knew there was some to work with. In the end, I think my "yellow villain Ataru" went in a different direction but still took lots of inspiration. As you'll see in deck list and strategy guide are HERE, the main change I'd make is swapping out the MK Sniper Rifles. They were a last minute add for some gimmicky shield generation, but not nearly as valuable as an extra Dauntless (more unblockable!) and Bryar Pistol (more value!). One of the things I love most about Destiny (thanks Echo3 and ARH team!) is the limitless options for deck-building. Case in point: Patrick and I both took Asajj/Bossk to the finals, but only half of our decklist was identical!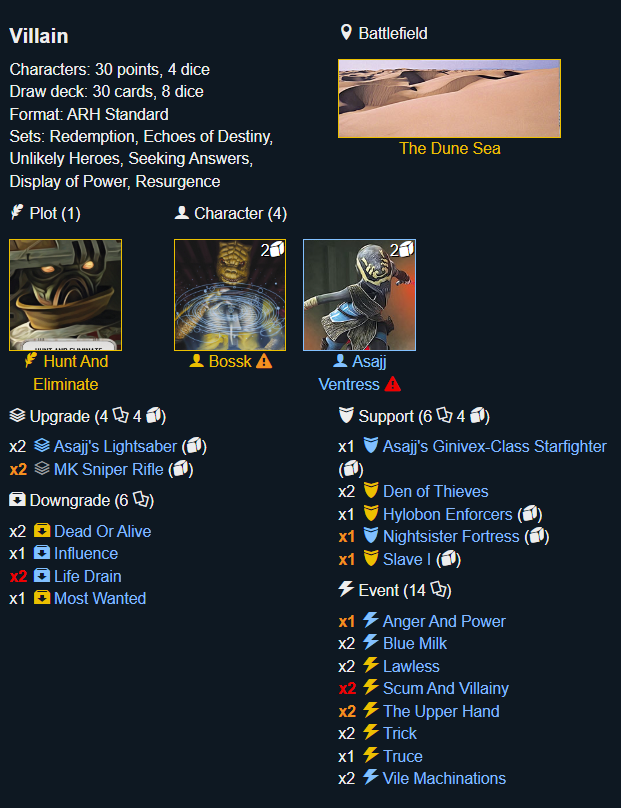 Patrick: I played Bossk/ Asajj with the Hunt them Down plot and Dune Sea battlefield.  I like having unique options while maximizing synergy, so the Blue/Yellow Asajj and Yellow Bossk, while both being Bounty Hunters really provides access to a lot of cards.  Hunt them Down being a 0 cost plot was originally a throw in, but then I thought about the strength of discarding their hand as bonus strategy.  To really put pressure on my opponent I decided on using the Dune Sea plot to force them to remove another card, as compared to the Jabba's Palace Bounty Hunter battlefield.  My ideal goal was to only allow my opponent to only play 2 cards per round:  1 upgrade or support, 1 removal event, and then force them to discard 3 cards (1 from a reroll and 2 from my penalty actions).  If I had a 31st card, it would have been helpful to have another strong upgrade like Ataru Mastery.  From a play standpoint, I found this deck very easy to maneuver as a form of mill/kill with lot of opportunities for cost efficient two-for-one mechanics.   
Majobasil: I love Redemption Vader and over the years, I've paired him with numerous partners, but there's something very special about Barriss Offee.  Her ability to bring 4 hero cards into the blue villain suite is super impactful. I chose to include 4 hero events each with Renew.  While rare to achieve it, it means the Barriss Power Action has a ceiling of 8 damage per game. Do not sleep on the pings.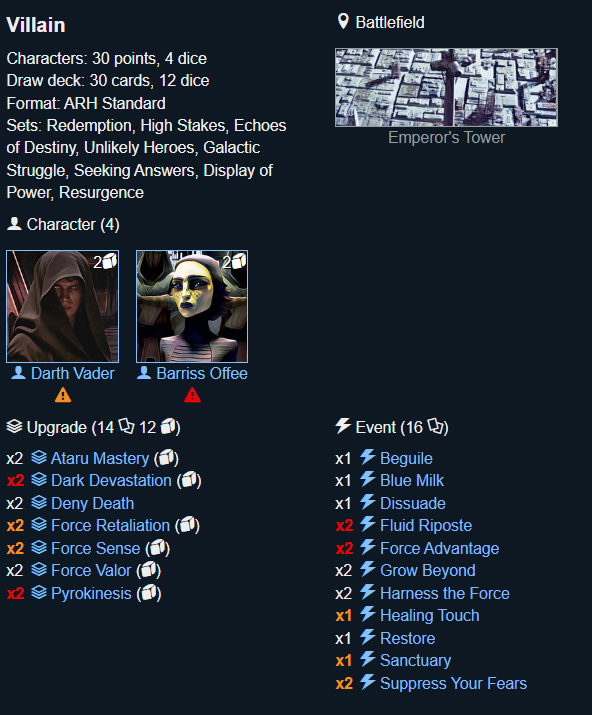 The ability to recur powerful abilities from the discard pile or Renew events positions the deck better than most against mill.  The shield generation via the likes of Ataru Mastery and Sanctuary, as well as healing via Restore give the deck legs against burn.  Aggro decks, however, can be a coin flip.  The deck needs a minute to ramp and stabilize, and if it takes too much damage early on, it can be hard to recover. But overall I felt confident in my ability to pilot the deck and overcome the tougher match ups. When the deck fires on all cylinders, it's very potent. (See HERE for Majo's deck guide). If I could squeeze in a 31st card, I think finding a slot for support hate could be important depending on the meta (i.e. Force Destruction to discard a Den of Thieves).  Also it wouldn't hurt to explore a 1x burn card like Anger and Power to pair with the Barriss pings. 
Swiss
Decklists prove again that the meta is healthy and wide open, with Asajj/Bossk the only repeat pairing beyond the Aphra/Dooku lineup that teammates TANK and Sylvie decided to run together. Otherwise, Vader (DoP) and Palpatine (RES) appeared multiple times with different partners before the field opened up. Most conspicuous in their absence? Big yellows (Black Krssantan, Din Djarin, and Jango Fett), vehicle mods, partisan token-movers, and mill. For the latter, a Leia/2xPatientPadawan version had popped up for recent wins at Echobase and the Dice Commando monthly tourney, and could have been a sneaky entry for the weekend.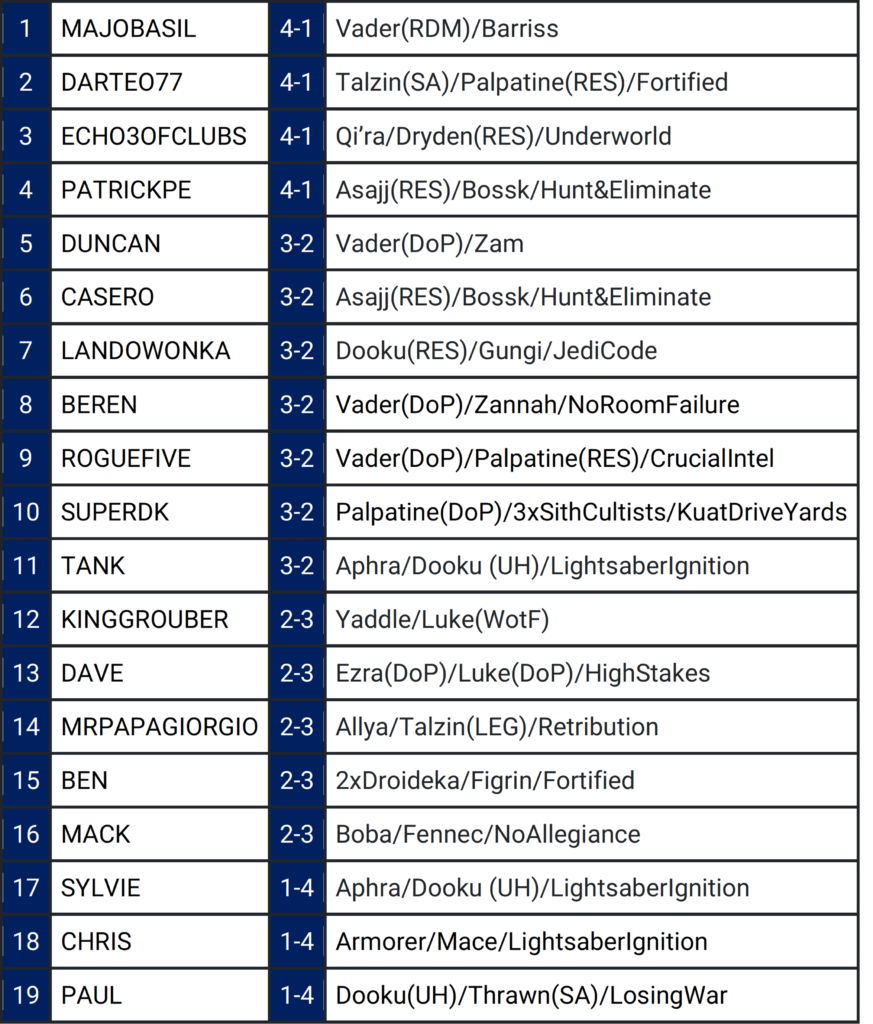 Can you share a highlight or two from Swiss? (crazy/funny moments, toughest matchup, key moments, etc)
Duncan: All my games in Swiss were fun. I had two Vader mirrors, which I managed to win as No Second Chances came out turn one or two which means a dead opposing Vader, even if it sometimes was a dance to get the damage required. I was pleased to beat Casero's Bossk/Assaj in Swiss but it was tense all the way. My toughest matchup in Swiss was actually against Darteo, who I never did like. I got his Talzin to within one damage of death, which would have probably been a game winner. But he played very well, and healed enough to keep her out of harm's way. Only when back home did I realize I should have resolved Zam's blanks throughout as one unblockable damage with NSC and that may have got the damage through… You live and learn!
Darteo: Duncan and I had a crazy close game in the last round of Swiss. At the end of round 2, my Palpatine was dead and my Talzin had 11 on her. On Duncan's side of the board his Vader had 9 and his Zam was still at full health but I pulled off a Rise Again and max damage to win the game in round 3. That was probably the closest game I played overall at the tournament and to set the record straight: I never liked Duncan in the slightest. 
Casero: Silver Sun will always have a special place in my heart since it was the first place where Darteo, KingGrouber and I had a chance to play against people we're not related to! After starting 2-0, I lost close matches to Duncan and Darteo which helped me focus for the rest of the event. Duncan hit a huge last-ditch re-roll to swing the game, simultaneously finishing off Asajj and saving himself 5 No Second Chances damage. And Darteo's final 4 turns were accompanied with some increasingly desperate "hey dad, you may just want to concede" negotiating as we each tip-toed around the game-winning damage.
Majobasil: Heading into Round 5 saw my toughest match of the Swiss rounds against Patrick who was on Bossk/Ventress. As I said earlier, aggro can put Vader/Barriss to the test, particularly aggro that can be disruptive as Bossk/Ventress can certainly be.  Unfortunately, Bossk/Ventress is not a deck I had faced in the league yet or anywhere prior, so I had zero reps or knowledge of what the deck wanted to do. A very neat and poignant moment for me though was in round 3 or 4 when I played LandoWonka on stream, and we realized after all the years of knowing each other and playing, this was our first time rolling dice and facing each other IRL.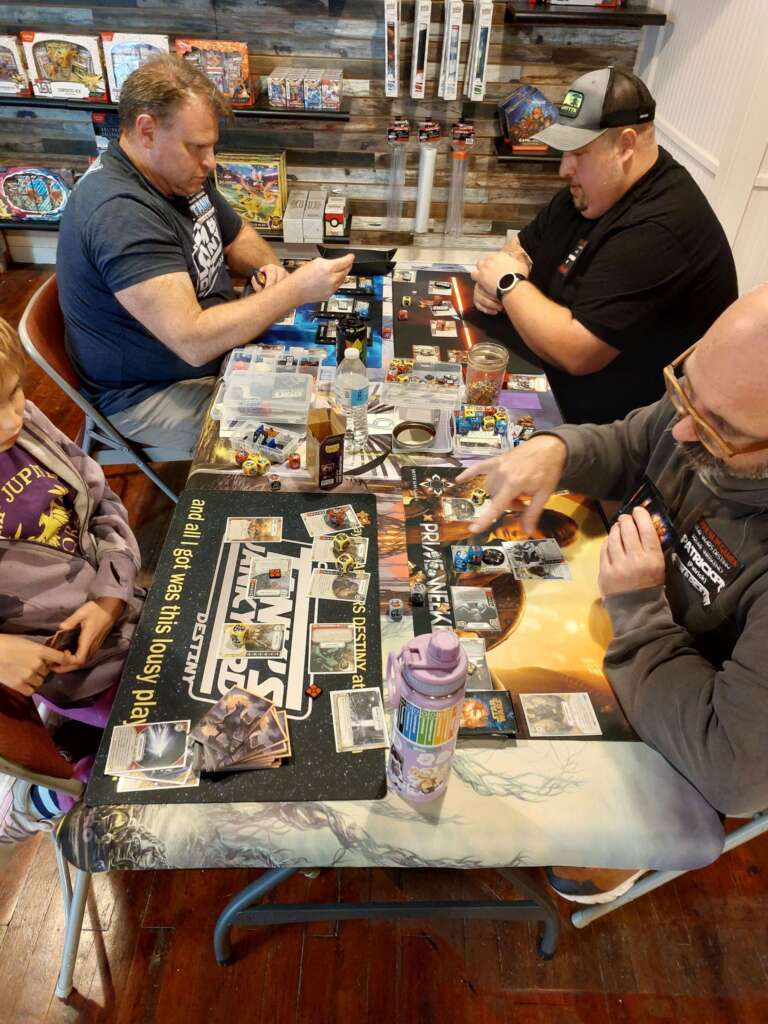 Patrick: The most surreal moment was by far when the 501st Legion characters in full costume stormed the live stream when Majobasil and I were playing in the 5th and final round.  I credit that distraction with being able to barely defeat him while he was still a very strong 4-0 at that point.  That win was what I needed to make the top cut. 
My toughest matchup was definitely against KingGrouber and his well practiced Old Man Luke & Yaddle deck, which was my loss in the 2nd round.  KingGrouber absolutely destroyed me at Gen Con with that deck, and he knows it backwards and forwards.  This time, I at least got to within 4 damage of winning.  With the upgrades moving around the board like Morichro, Force Sense, and Ataru Mastery, it became so hard to penetrate the shields and mitigate all those dice.   
Top Cut
Five rounds of Swiss culminated with the announcement (led by Jawa and Stormtrooper HERE) of the "top 6" – a consequential format choice that allowed "wild card" winners Duncan and Casero to sneak into the top cut. Those matches kicked off again on Sunday morning, with all players a bit bleary-eyed after a late night playing a bazillion non-Destiny games at the Airbnb on Saturday.
Wild Card: #4 Patrick vs. #5 Duncan
Scum & Destiny stream of match 1 is HERE and match 2 is HERE (apologies for frozen last few minutes)
Patrick: Luckily against Duncan all of the stars aligned in my favor.  My strategy going in was that I wanted to reserve Asajj's power actions to keep forcing his big Darth Vader to reroll instead of removing his dice, and use the discard from hand actions to keep him off-balance, lest he waste those high value dice.  Unfortunately for Duncan, he rolled terribly both games, and I rolled hot.  He lost his Zam Wesell "Inquisitor" that he needed to play No Second Chances in the first round of the first game, and he was rattled after that.
Duncan: Well I had managed to beat Bossk/Assaj earlier in Swiss, so that gave me a little confidence going in, and was mulliganing for two No Second Chances to beat down Assaj turn one, but he really had a brilliant deck and thwarted every single thing I tried. I'm a confidence player, and once things start to go badly for me, or I misplay (often) I kind of go downhill from there like a bad poker player. So I folded like a cheap suit. At the end of the day, I was a slight fraud to have been up that high, and normalcy came crashing back down to earth in the form of Patrick, who is a much better player.
Wild Card: #3 Echo3ofClubs vs. #6 Casero
Casero: These games wrecked me; easily the most intense board or card game experience I've ever had. After each match in the best of 3, Echo3 and I went for a quick walk around the block because we were both so wrung out from the back-and-forth chess match. Each game followed a familiar pattern, with Dryden and Asajj both going down in round 2, leaving Bossk and Qi'ra to clean up the pieces.
In the first match, I was on my heels for most of action until I ran into the inevitable game-ending Fight Dirty to cap it off. If you're going to lose to a legend, I suppose it might as well be to his signature move… plus I captured his actual artist+designer signature on my Allya mat as a consolation prize! The second match tilted a bit more in my favor, with me continuing to hunt Echo's self-damage to neutralize Dryden & Qi'ra's ramp abilities. Add in a couple of big rolls from Bossk and I was able to close it out with a bit of breathing room. Match #3 was a grind… One key turning point was a 4-turn, back-and-forth sequence where I was able to barely prevent lethal early in round 2, allowing a bit of time to stabilize for a final push. One round later, Echo's flurry of Tusken Camp dice missed their big damage sides, just in time for me to sneak in a last bit of Projectile Rifle unblockable damage for the win.
Semi-Final: Patrick vs. Darteo
Patrick: The semi-final game against Darteo was a long drawn out chess match that went the distance, 2-1, and I was saved by a Nightsister Zombie as my last character.  With the Dune Sea battlefield, I knew my deck could discard a few cards per round, but I never expected to win both of my games by mill.  My first target each game was Palpatine to reduce the effects of the healing that Mother Talzin could perform each round with her passive ability and Life Force, and then use my mitigation and re-rolls to target her dice. My highlight of the semi-final was in the 3rd game being able to use both copies of The Upper Hand to perform unblockable damage, trigger the Hunt Them Down plot to discard cards, and then look at his hand and discard Rise Again and Emperor.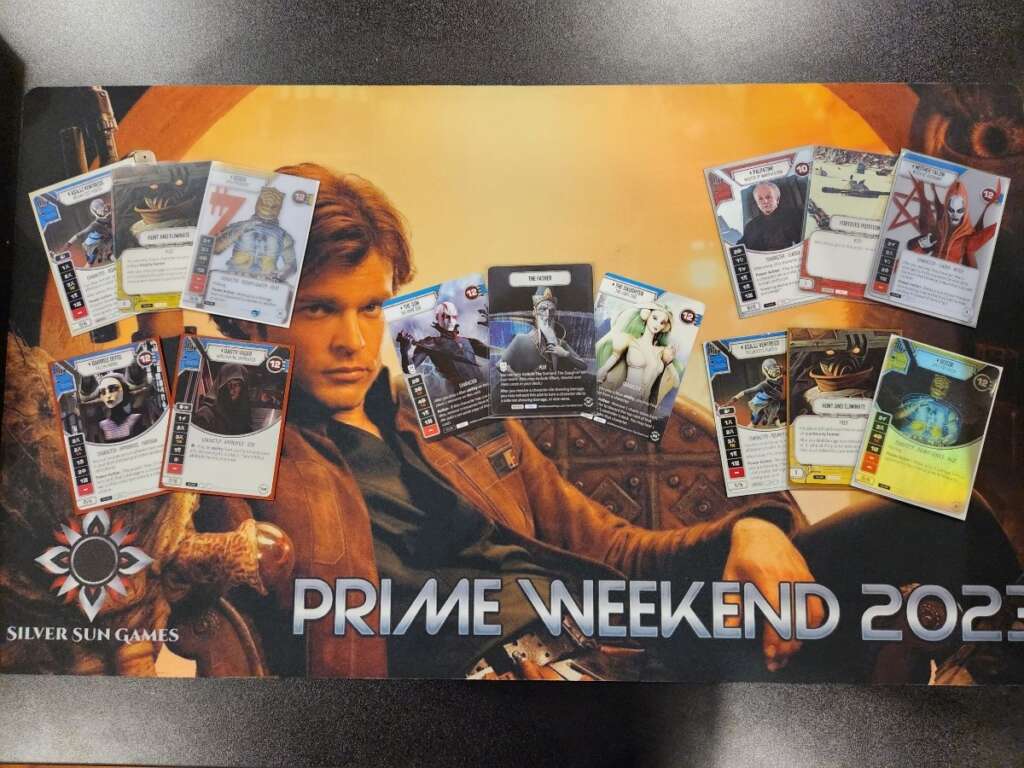 Darteo: I was a little bit worried about playing Patrick because having played Casero a lot I knew that Bossk and Asajj could push a lot of damage output, so coming into the first game I tried to pull as much removal as possible to minimize damage. I think the thing that made the biggest difference was the Most Wanted bounty which I bet took 4 cards from my hand in each game and meant I didn't have many options to play. I won game 2 big, but I lost the other games via mill because he kept removing my dice or rerolling them into blanks with Asajj.
Semi-Final: Majobasil vs. Casero
Scum & Destiny stream of match 1 HERE, plus matches 2 and 3 HERE
Majobasil: My semi-final matchup was against the same Bossk/Asajj that beat me in Swiss, though I would come to learn that Casero's version was tilted even further into aggro and a tad less disruptive.  Whereas Patrick ran Dune Sea, Most Wanted and The Upper Hand, Casero's deck seemed to be geared more toward traditional smash you in the face with a strong hint of unblockable in the form of Projectile Rifle. Paired with Bossk's ability and Asajj's PA, it was very clear Casero had anticipated blue's most potent upgrade, Ataru Mastery. All that unblockable damage positioned his deck quite well against mine and it's a terrifying prospect trying to keep a character safe. Initially, I wasn't sure which character to target, but I'm now convinced the must-kill target is Ventress.  Her Power Action is bonkers… free mitigation and unblockable damage?  Whoa. 
I was able to win match 1 of 3.  It was a super long one and very hard fought on both sides… so much so that Casero and I both needed a quick break afterwards. Match 2 of 3 felt somewhat lopsided.  Casero was able to put out a lot of damage early, and after I claimed, he ditched his final card and re-rolled into a Bossk 4for1 and Asajj 3for1 to slam through 7 more damage, putting me on the backfoot.  
Match 3 of 3 was very close.  It felt like a classic game of Destiny with momentum swings, ups and downs, feelings of elation that victory could be close then dread as it becomes clear you are running out of gas. I ultimately made a critical error in the match. Casero had taken some self-indirect damage early onto Bossk and also played a non-redeploy upgrade on him, making him look very appealing as a 1st kill target. Unfortunately, I took the bait – which he later confirmed was intentional. That proved to be a very fatal error!  24 health Asajj is bad news bears; too much value to let her live. 
Even though I lost in the semi-finals, I am super happy with my result overall, ending the swiss rounds as 1st seed. Ultimately, it felt like Bossk/Asajj had a more efficient game plan, whereas Vader/Barriss needs every tool, resource and card in its kit to win. Congratulations to Casero… it was great to see some amazing Destiny played by a new generation of competitive players.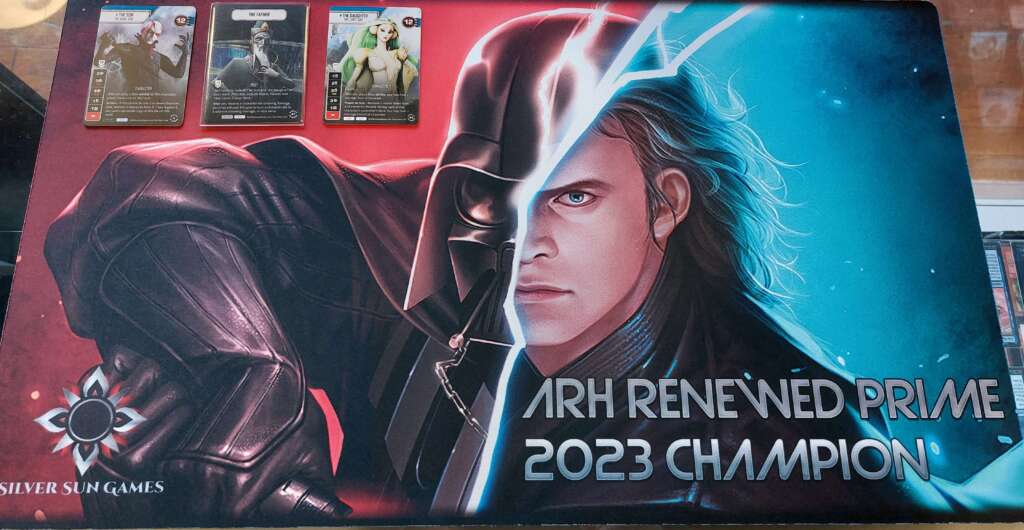 Casero: Majo's recap above is excellent so will add only a few reflections. First off, losing match 1 after those 3 intense matches with Echo3 was rough! And especially so given the way Majo piloted to victory. He artfully plays Vader/Barriss as a ~40 card deck, pulling whatever he needs from the discard pile. In this case, the two heartbreakers were bringing back Sanctuary to hit a Bossk 4 (7 health swing for the 2nd time that game!) and then winning by bringing back Dissuade for the final damage he needed when I was showing lethal and he had just two cards left in hand/deck. Oof. Other takeaways from this game include the fact that downgrades are really important for Asajj (I somehow didn't draw any until round 4 in the first match) and that Asajj's Ginivex-Class Starfighter can do some work if I get it out early.
Finals: Patrick vs. Casero
Catch the Scum & Destiny stream HERE
Patrick: I never imagined I would make the final table. My fellow Scum and Destiny teammates were joking that it was like the original Rocky movie with an underdog palooka like me fighting for the title in my hometown. Those who know me from the monthly ARH league know that I play a fair amount, but don't win very often. The difference maker was that Casero's deck was more aggressive and he was able to get strong weapon upgrades onto the board like Projector Rifle, MK Sniper Rifle, Bryar Pistol to supplement his strong character dice; I couldn't mill or kill fast enough.  Like Rocky, in the end I lost to "The Champ".
Casero: I was really interested to see how differently we had built our lists (only half of our cards were identical!) and impressed to see how well Patrick's deck could attack my hand each round. The first match really boiled down to a couple of big moments in Round 2 after I'd gotten my Ataru Mastery and Projectile Rifle out early. The action started when I knocked out Patrick's Bossk with my own Bossk + Projectile Rifle. Patrick responded by ditching my Den of Thieves (he'd later discard my Headstrong the old-fashioned way) with a timely Upper Hand and then discarding to re-roll his Asajj into a ton of damage. My Asajj PA bumped him out of lethal to save Bossk who went on to survive one more re-roll. Bossk made the most of his borrowed time at the start of round 3, chipping in another 3 melee and 3 unblockable from the Projectile Rifle to help close out the game. The second match saw big rolls early from both sides of the bounty hunter mirror match, followed by some tactical cat-and-mouse as we each worked to slide damage underneath shields with Asajj and Bossk's Power Actions. Eventually, my Asajj's Ataru Mastery and 2 Projectile Rifles just became too much to mitigate, sealing the championship for the Bostonian.
While it would be fun to say that I immediately high-tailed it back to Boston with the championship playmat and Force Family spot glosses, the truth is that we all just wanted to keep hanging out – first at the store and then back at the Airbnb for some raucous games of Fangs, Pit, and Combo Fighter. When the sun rose the next morning, we were hoarse from all the laughing, grateful to Chris and Michelle at Silver Sun and the entire Scum & Destiny team for hosting such a spectacular event, and most importantly: already planning the next time we'd all get together. Hope to see you for some Destiny soon!
Support ARH On Patreon
ARH is a completely volunteer, non-profit organization with a single goal: To provide the best possible experience for the continuation of Star Wars: Destiny. If you enjoy our content, please consider supporting us on either Patreon or PayPal.
100% of your contributions will be used for prize support and direct costs to run ARH. We appreciate your support, and may the Force be with you!