For as long as anyone can remember, the galaxy has been in turmoil. Even if open war isn't raging, the weapons of war have always been an important tool for preserving order, keeping the peace, or fighting back against oppressors.
These weapons come in all shapes and sizes, from the ancient art of the lightsaber to a good, sturdy blaster. Today we're going to take a look at some of the iconic weapons you'll find throughout Faltering Allegiances!
As you likely already know, Faltering Allegiances is the first set to be released by the ARH Continuing Committee, and is slated to drop on Friday, October 16th. The set includes 90 cards, and will kick off the standard rotation, which will include the entire Convergence block up through FA.
Keepers of the Peace
The Jedi have always dedicated themselves to creating peace and harmony, attempting always to bring balance to the Force. However, sometimes in order to create peace, one must go to war.
The lightsaber is a staple of Jedi combat, and each Jedi has a deep Force connection with his or her blade. Let's take a look at some of the lightsabers you'll be able to wield when Faltering Allegiances is released, starting with the trusty blade of the one and only Cal Kestis.
Coming in at 3 resources, and having two pay sides, Cal's lightsaber looks at first glance to be rather expensive for what it brings, but there is more here than meets the eye. Not only does the Power Action let you roll in another copy, leading to huge damage potential, but you can even play it for free if you already have Jaro Tapal's Lightsaber in play!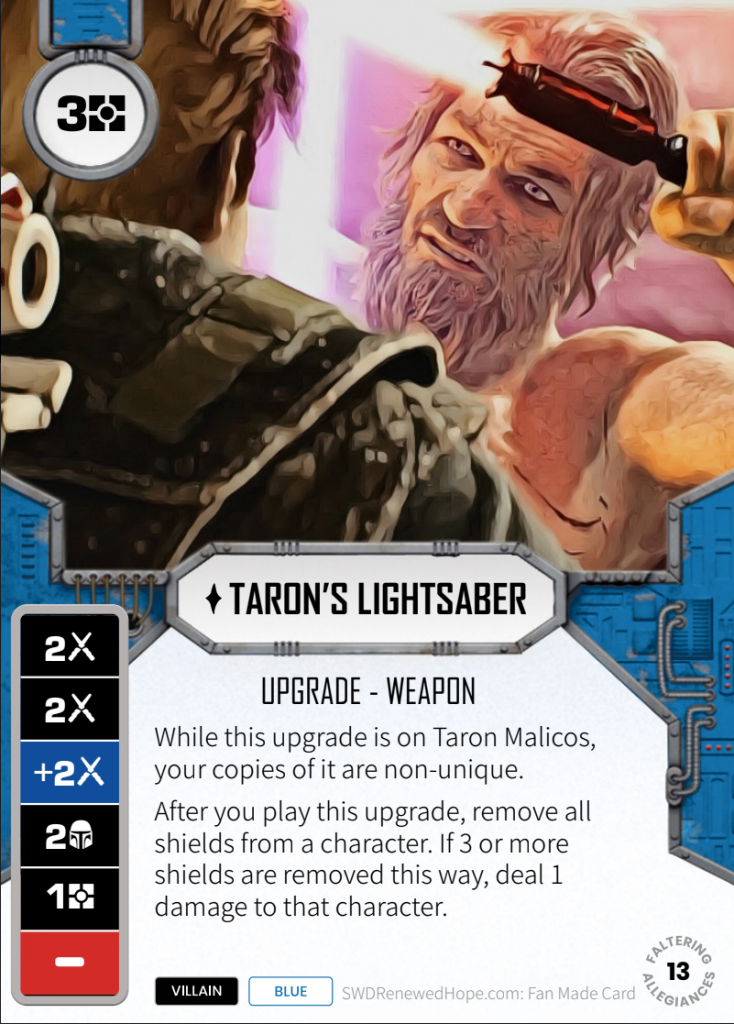 Now that we got a look at some of our hero force-wielders, let's take a look at the darker side of things. After surviving Order 66, Taron turned to the dark side of the Force, going on to lead the Nightbrothers before his confrontation with Cal. His lightsaber brings a consistent die, featuring four 2-value sides (including three damage sides) and an ability that builds upon the blue villain theme of shield removal.
Not only that, but if you manage to remove 3 shields from an opponent's character, you get a free damage upon playing, creating a 4 damage swing – simply by playing the card!
Spies and Subterfuge
Sometimes war requires a bit more subtlety than hand-to-hand lightsaber duels. Whether you're trying to pick off an unsuspecting enemy from afar or infiltrating behind enemy lines, nothing beats the reliability of a good blaster.
Jyn and Cassian comprise a duo of Rebel spies who played a pivotal role in the eventual destruction of the Death Star, and their trusty blasters were vital in their mission on Scarif. OK, so maybe it wasn't so much Jyn's blaster as the blaster she "acquired", but the point remains!
Whether you're dealing unblockable damage with Cassian's blaster or getting extra resolutions out of Jyn's, your opponent is sure to be feeling the hurt with these two powerful weapons.
Bringing Out the Big Guns
There's a time for subtlety and there's a time for smacking someone in the face. When you're confronted with a traitor to the First Order and a blaster simply won't do, you can always bring out the Riot Baton to lay down the law. With FN-2199's Riot Baton, you can bring the hurt with multiple resolutions each round, including a special that can either remove an opponent's die or put out a whopping 3 damage.
But if you really want to unleash the pain, you gotta really bring out the heavy artillery. It may cause some collateral damage, but if you do it right, it'll hurt them much more than it'll hurt you.
Saw's RPS-6 Rocket Launcher is the perfect example of that. As a cheap upgrade with big sides, you can't resolve it normally, but the Power Action allows you to take a little damage yourself to deal indirect to your opponent. Combined with elite Saw's ability and enough characters on your side of the battlefield, this weapon has the potential to deal devastating amounts of indirect damage to your opponent.
The Right Tool for the Job
Whether you choose to be a Jedi, a spy, or a trooper, the right weapon can make all the difference. Which will you choose when Faltering Allegiances drops on October 16th?
Support ARH On Patreon
ARH is a completely volunteer, non-profit organization with a single goal: To provide the best possible experience for the continuation of Star Wars: Destiny. If you enjoy our content, please consider supporting us on either Patreon or PayPal.
100% of your contributions will be used for prize support and direct costs to run ARH. We appreciate your support, and may the Force be with you!