It's officially spring in the Northern Hemisphere and in-person Destiny is blossoming around the globe. Last week, we featured highlights from the UK where the players have already planned another in-person event as part of the buildup to their upcoming Grand Championships in June (tickets HERE).
This time, we're shifting our gaze to Toronto, where LiquidSnake, SpartacusN7, Old_Ben_Kenobi and others are reigniting the local scene and have just hosted the first of two Renewed Prime events in 2023.
Just like the recent Laundromat Prime in Swindon (UK), the event featured a wide range of decks, with 8 players bringing 16 unique characters as they battled for snazzy Baze/Chirrut promo cards and a classic Mr. Bones playmat.

Read on for LiquidSnake's perspective on the big day…
Getting to Know LiquidSnake
When was the moment you became a fan of Star Wars?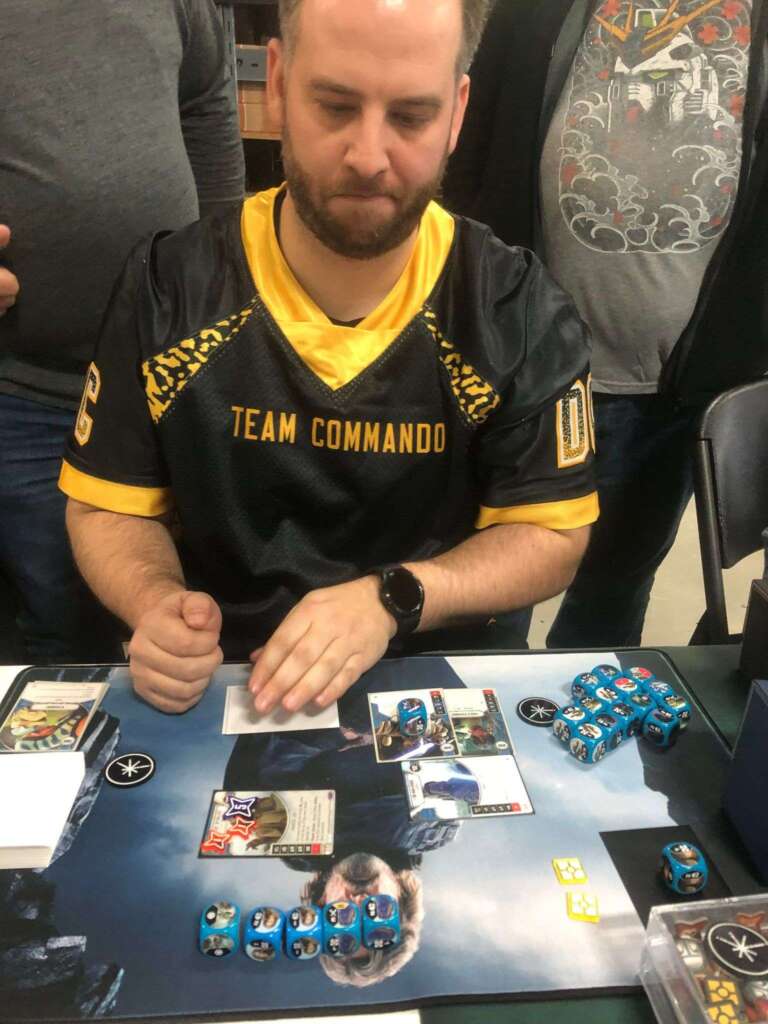 My parents are massive science fiction fans. I recall at a young age watching Star Trek and the X-Files with them. My parents had the original Star Wars trilogy on VHS and from the first time watching A New Hope I was hooked. I fell in love with the Star Wars universe immediately after seeing lightsabers, space battles, and the force in action.
How did you get into SW Destiny?
I got into SW Destiny late in the game during the Legacies block. I saw the two player starter set at one of the local game shops in Toronto and decided to pick it up and give it a try. The simple back and forth interactions with the addition of dice was so fun and unique. Very different from TCGs I played in the past.
In today's galaxy of TTS, kitchen tables, and local in-person play, "the meta" means lots of different things. How do you define *your* meta?
My local in-person play meta is very different from the meta I experience on TTS. My local is heavily influenced by the theme of Star Wars and the popularity of characters. Being a regular in the ARH League, I'd say this is the most diverse and broad meta I've seen to date which is keeping the game alive and well. Kudos to the ARH Team for doing such an amazing job!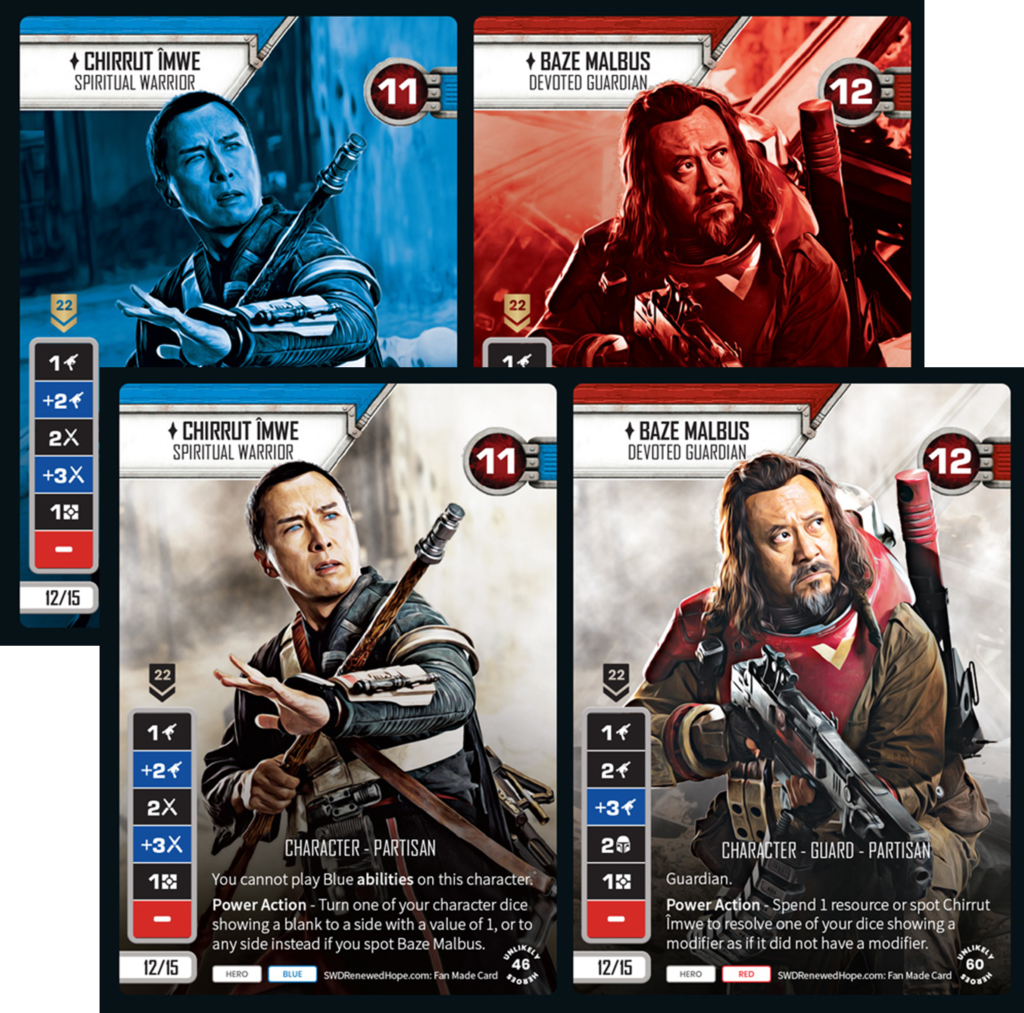 Looking back, what has been your favorite meta?
My favorite meta during the FFG days was the across the galaxies meta. Vader Greedo was my favorite deck to play. For ARH It was the meta during January of 2022. The Outer Rim Open where I took Bo-Katan Rex TMTNE in Heat 1 to victory for my first ever Galactic Open win! What made that tournament even more special was that I had DrASHman with me the whole way to record it. Go Commando!
Star Wars Destiny in Toronto
What should we know about the Toronto scene in 2023?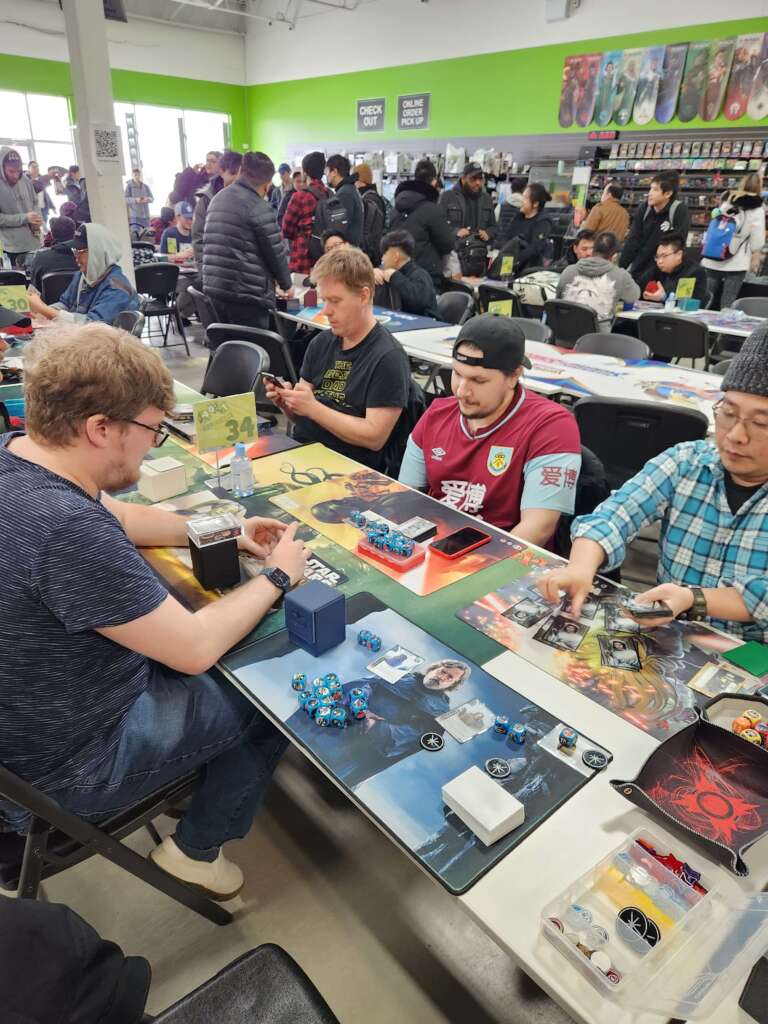 The Toronto SWD scene is coming back to life. With the help of SpartacusN7 and Old_Ben_Kenobi I was able to showcase the game to some of our old community members and have also introduced the game to some new players. It's a welcoming and friendly community that wants to keep this beautiful game alive.
What should we know about the event itself?
We were able to host the Toronto Prime at 401 Games which is one of the most popular game shops in the city of Vaughan. The shop manager (Jeff) and event organizer (Anthony) were simply amazing. Their continued support to allow us to host Destiny Events there has been absolutely phenomenal. Our tournament consisted of 8 players with a few new faces to the scene. We played a 3 round swiss tournament with a top cut of 4 players. Shout out to SpartacusN7, Old_Ben_Kenobi, Toddy89, FlatHeadJWC, and Tython82 for coming out and making the event special!
Organizing an event is a lot of fun, but also a lot of work. What tips do you have for others considering hosting a Prime?
It takes a lot of patience and persistence. I would recommend getting out to your local game scene with a few friends and having a cube of pre-built decks to showcase to players. Try to plan the event well in advance to maximize attendance. Also reach out to the ARH Admins and others that have hosted events for support. Shout out to DrASHman and Majobasil for all of your support during the planning stages and prizes for the prime!
Pre-Tournament Prep & Deck-Tech
In the weeks leading up to the tournament, how did you assess the meta? What pairings did you expect to see?
Leading up to the tournament I wasn't really focused on how to counter the local meta. I knew I was going to see a mix of mono blue decks, and piloting decks including Bossk as he has been a local favorite. Who doesn't love a lizard with a gun?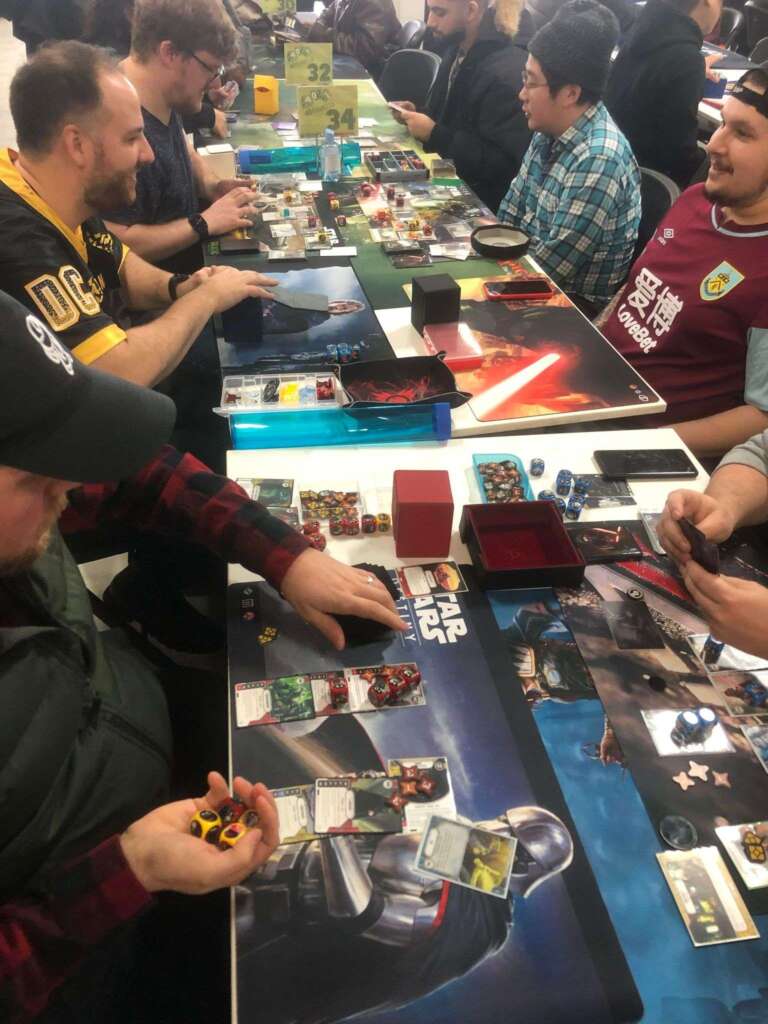 Which deck did you play? Why? What does this deck want to do?
Shortly after Elrathion released the February balance update I decided to play Obi-Wan Kenobi and Luke Skywalker, reluctant instructor. I felt that Obi-Wan Kenobi was still very strong and that blue abilities got buffed with the new restrictions list update. I piloted this deck to a top 8 finish during the DOP release event so I felt very comfortable with it. This deck wants to utilize Luke Skywalker's Power Action to move abilities from him to Obi-Wan Kenobi after being resolved to get more value out of high power upgrades like Lukes Teachings and Ataru Mastery. The additional perks are that Obi-Wan can resolve his discard sides as melee as well as Luke can resolve his shield sides as melee giving you more flexibility.
What were the last cards to make the list? What was card 31 that you wish you could have included?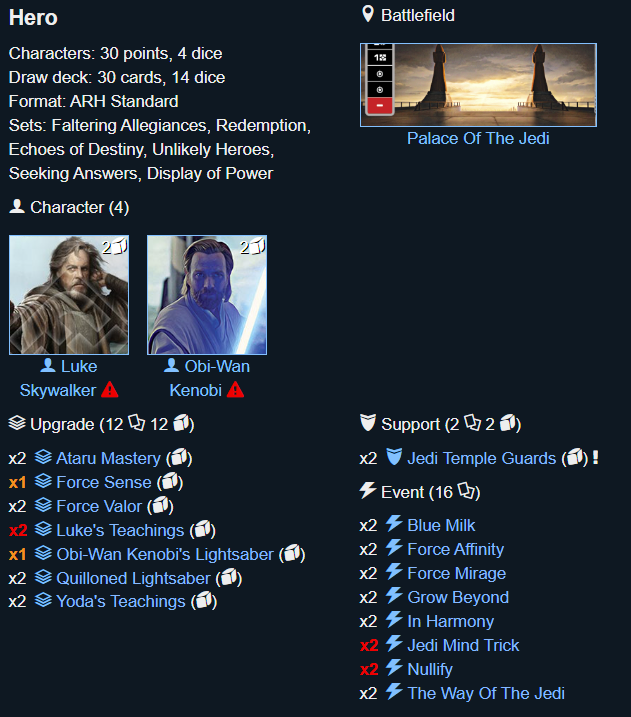 The last cards to make the list were In Harmony x 2. I was struggling to find what 0 cost mitigation would work in the deck with the recent removal of Pacify from the Echoes of Destiny reprint list. Huge shout out to Mawloc for the suggestion. What sold me on the card was the fact that it had renew for 1 resource so in a desperate situation you could utilize it from your discard pile or simply use it twice in two actions to remove 2 dice for 1 resource. Card 31 would have been Balance The Force.
What do you want to see in your opening hand?
Luke's Teachings for card draw and a matching 3rd die to Luke, Force Mirage for ramp, Grow Beyond to reduce the cost of an ability, Ataru Mastery, and then Nullify or In Harmony for a 0 cost mitigation.
What are this deck's best matchups? Which matchups are most challenging for this deck?
The deck does well against the majority of burn decks as it can shield and heal fairly well. Mill would be the most challenging deck archetype to face.
Tournament Highlights
When you saw you'd be facing Bossk/Soontir again in the finals, what strategy did you think would lead to victory?
When I saw I'd be facing Old_Ben_Kenobi in the finals, I wasn't surprised. Ben is a fantastic player and I knew I would be in for a slug fest. Luckily for me the finals were lopsided due to fantastic rolls and draws for me and the complete opposite for my opponent. In both games I was able to defeat Bossk quickly during round two, which ultimately sealed the tournament win.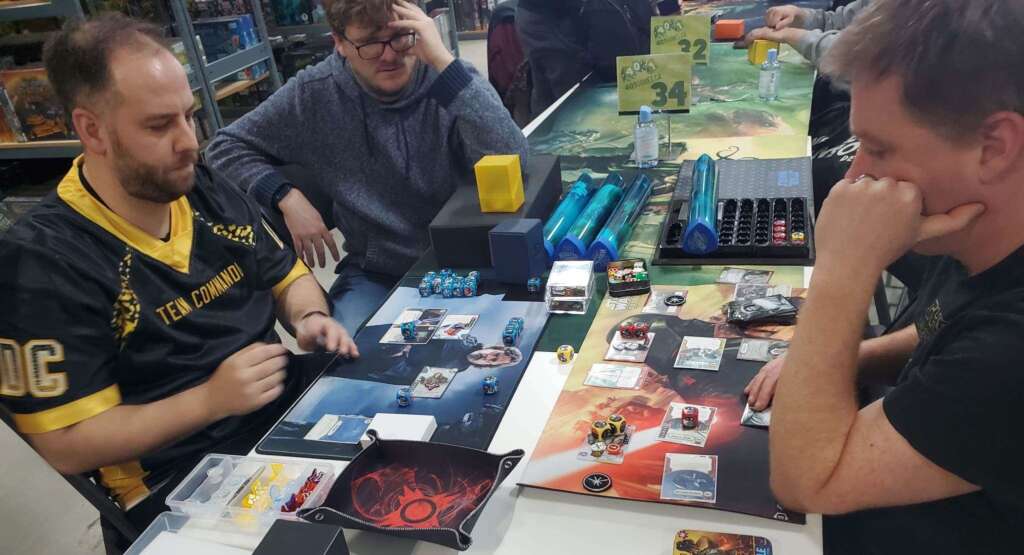 Other than the results themselves, what was a favorite moment from the tournament?
Overall I felt the tournament was a huge success. Being able to get together again in person with some great people and play this fantastic game is what mattered the most. The best moment was at the end of the tournament. I had set aside a Mr Bones FFG Playmat for the winner of the tournament and as the TO I still wanted it to go to another player despite winning. I gave the playmat to Ben and he in turn suggested we give it to Tython82. It was actually his birthday and his first ever top cut finish at a SWD event. Tython82 was thrilled and to me that's what makes this community so amazing.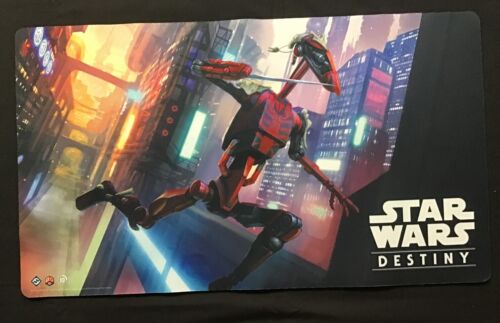 Support ARH On Patreon
ARH is a completely volunteer, non-profit organization with a single goal: To provide the best possible experience for the continuation of Star Wars: Destiny. If you enjoy our content, please consider supporting us on either Patreon or PayPal.
100% of your contributions will be used for prize support and direct costs to run ARH. We appreciate your support, and may the Force be with you!