A Solid Foundation
When I first set out to write my initial design document for the set that was to become High Stakes I knew I had a few core things that the set really needed to get right so that it would ring true to the classic Destiny sets that we know and love. The core principles that lead my initial design document were:
Ensure Star Wars: Destiny continues to be an approachable and fun game – easy to learn and difficult to master.
The core tenet of Destiny, its action economy, shall remain a priority for metas going forward. The you go/I go nature of the game is what attracted many people to the game and should continue to do so.
Ensure the power creep was limited where appropriate.
I really do believe that the team has delivered a set that lives up to all of these principles and is going to be a collection of cards that players of all types are going to enjoy for some time to come. This is the first set that had been designed with the full knowledge of FFG's intentions for the game going forward. Knowing that the Echoes of Destiny kit, and with it a final set, was not going to be delivered. This really blew the door wide open on what we could design knowing that Destiny now was fully in our hands.
This freedom also offered an opportunity for the team to really lay the groundwork to help future teams going forward. We have worked on a tight set skeleton for designers to use so that each set will start to take a familiar form and shape with no parts overloaded or neglected. This skeleton offers us  around a hundred card slots per set. Each card has a role to fill to make up the bones of a great set, be it a unique diced character or a piece of dice removal  – the skeleton has a home for all cards. This work should keep us in great stead for our eventual rotation.
An Immersive Theme
With a solid foundation built and a vision of the future of Destiny to come, it was vital that we settled on a theme that would match our aspirations. What better major theme to decide on than fan favourite "The Mandalorian". This TV show set 5 years after Return of the Jedi offers plenty of room to explore whilst remaining in the classic Star Wars setting we all know and love. 
I mentioned to the design team that this theme felt a lot like what may have happened if some kids got to turn the stories they created with their action figures into a TV series. I wanted that feeling to carry that through to this set. Destiny is meant to represent the what-ifs and greater stories of the Star Wars universe and this was the perfect setting for that to happen.
A Crack Team
The team selected to bring these ideas to life have done an exceptional job and I want to lead the admin team in thanking the entire team for the work they have dedicated to crafting High Stakes for us all to enjoy. So a big thank you is owed to:
Design for bringing my original vision to life
Ace Jon
Atomisk
Rockntroll
Trey
Production for ensuring we have great looking cards with art that always meets the theme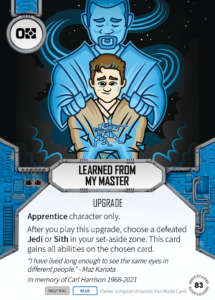 Sarahevans
Solis198
YoMonFrere
Artists for donating amazing art for our cards
CosmicNewt
Parker Simpson
Pistachios
The entire playtesting team for fine tuning the set.
Echo7 for his thankless work on the SWDB.
Without the dedication and contributions from these members of the community we would not get to continue enjoying this fantastic game so please ensure to thank them the next time you see them on Discord, TTS or who knows, maybe even an in-person game!
What Now?
Go explore; there is a lot in this set that might not jump out straight away but experiment and I think some of the cards might surprise you. I hope that you enjoy this set and that the team have been able to meet your expectations as custodians of Star Wars:Destiny.
What No Spoiler?
Haha I didn't think I could get away with a release article and not spoil one last card before release for you all to ponder over. So here it is a final teaser of a much loved character that I feel sure you're going to see a fair bit of in the High Stakes meta.
Support ARH On Patreon
ARH is a completely volunteer, non-profit organization with a single goal: To provide the best possible experience for the continuation of Star Wars: Destiny. If you enjoy our content, please consider supporting us on either Patreon or PayPal.
100% of your contributions will be used for prize support and direct costs to run ARH. We appreciate your support, and may the Force be with you!