When A Renewed Hope was formed to continue the legacy of Star Wars: Destiny, it was not only because we all loved playing the game, but more importantly it was because we love the community around it. From weeknights on kitchen tables, casual meetups with friends at the local game store, all the way up to Regional, National, and World Championship events. The chance to test skills and ingenuity of deck building against friends and strangers alike in competition, and to meet new people, reconnect with old companions and to socialise with fellow gamers and Star Wars fans. Whatever the reason, we can all agree: we love Destiny.
The official conclusion of the game from FFG in January 2020, in addition to a global pandemic the likes of which none of us have experienced in our lifetime, has made playing in person nearly impossible for over a year now. Playing online has been a vital lifeline, not just for the long-term health of the game, but also for us, the players. And now that the pandemic is slowly improving across the globe, we are seeing small pockets of areas starting to try and organise safe physical play. With this, in addition to our continued emphasis on competitive online play, ARH is proud to announce our Organized Play initiative. This vision is not only designed to provide a rich variety of competition on a regular basis, but also to help sustain the long-term vision of ARH to provide a quality gaming experience for years to come.
---
Galactic Open Series – Canto Bight
These spectacular new tournaments will be the inaugural events in the A Renewed Hope: Galactic Open series. The "GOs" will be played in the style of GQs as these have always been very well received by the community as a great mix of a competitive and casual style event. It will be comprised of three separate six-round events over the weekend of March 20th and 21st, 2021 played on TTS.
Entry Fee – $15 per event: Basic Structure (You may play in as many events as you wish)
Heat 1 – 3/20/2021 – 1100 GMT (0700 EST) 
https://tabletop.to/arh-galactic-open-canto-bight-heat-1
Heat 2 – 3/20/2021 – 1900 GMT (1500 EST)
https://tabletop.to/arh-galactic-open-canto-bight-heat-2
Heat 3 – 3/21/2021 – 1600 GMT (1200 EST)
https://tabletop.to/arh-galactic-open-canto-bight-heat-3
Players competing in these events will accrue virtual tickets for playing rounds and additional tickets for wins. There will also be bonuses for achieving 4, 5 and 6 wins. Players will earn one ticket per match played, one ticket per win and two additional tickets per win above three. Therefore going 6-0 would be worth 18 tickets. These tickets can be redeemed for exclusive Galactic Open spot glosses!
12 Tickets – Characters
FA – Second Sister
FA – Jyn Erso
FA – Cassian Andor
RM – Qui-Gon-Jinn
RM – Benthic
RM – Hondo Ohnaka
RM – Admiral Ackbar
Plus 5 more to be revealed on tournament day!
8 Tickets – Plots (4 revealed on tournament day!)
6 Tickets – Battlefields (3 revealed on tournament day!)
**In addition all participants that finish a GO with a 6-0 record will receive a round one bye in the next ARH Release Event PLUS a paid entry to the Inaugural ARH Destiny 2022 World Championships (details below)!
Don't unpack your bags, because after you leave Canto Bight we will be traveling to the deserts of Tatooine Summer 2021…
A Renewed Hope – Release Parties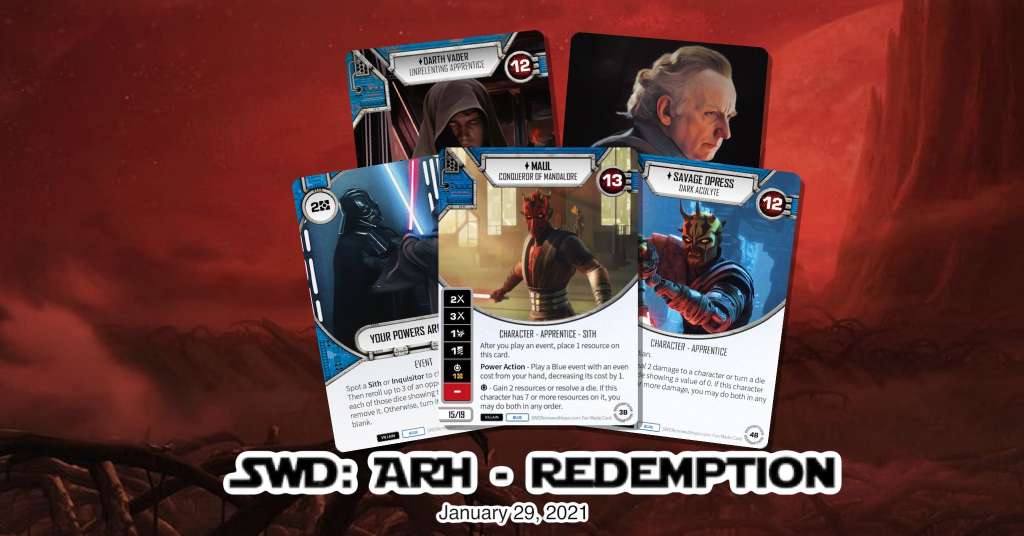 Following on from the success of the Faltering Allegiance and Redemption release events these will continue to a madcap crazy first look at the new meta which will be free for anyone to enter. There will still be promos, top 16 prizes and raffles for printed sets, but the essence of these events is to have fun, enjoy the day with friends, being surprised by opposing decks and remembering why we all play the game. Because we love games and Star Wars.
Free Entry: Basic Structure
Participation Promos sent to all participants
Top 16 Spot Glosses
Two (2) complete sets with dice and sticker sheets given away to random participants
A Renewed Hope Mid-Cycle Events
The ARH Mid cycle events are designed for players to compete in a highly competitive atmosphere in a more defined meta than release events. The first mid cycle will be on April 10th and 11th 2021 and will be the Redemption MCE (Mid-Cycle Event).
Entry Fee – $8: Basic Structure
Swiss Round – 4/10/2021 – 1600 GMT (1100 EST)
Top Cut – 4/11/2021 – 1700 GMT (1200 EST)
https://tabletop.to/arh-midcycle-event-redemption-championships
Top 16 – Doctor Aphra Serial Numbered Spot Gloss (awarded based on your place in Top 16)
Raffle – Five (5) Doctor Aphra Spot Glosses (not numbered) awarded after each of the first 5 rounds
ARH: Destiny – World Championships
Las Vegas Open 2022
Our goal has always been to play in person events, meet new and old friends, roll dice, socialise in the diners, cantinas, and gaming spaces and celebrate what makes this one of the best communities any of us have ever seen or been privileged to be a part of. We are proud to announce plans to hold our first ever ARH World Championships at the Las Vegas Open in January 2022! This will obviously be entirely dependent on the state of the pandemic, so in the event that LVO 2022 is canceled we will still have this Championship event using our current online resources on TTS.
That's all the details we can share for now, but more will be coming as soon as we know the situation nearer the event, so stay tuned.
Game Night Kits
While a lot of this update is focused on tournaments and other competitive events, we promise we haven't forgotten about local shop game nights! Look for a full article on this topic next week, but we wanted to ensure you knew this was something at the top of our minds. Details to come soon!
Support ARH On Patreon
ARH is a completely volunteer, non-profit organization with a single goal: To provide the best possible experience for the continuation of Star Wars: Destiny. If you enjoy our content, please consider supporting us on either Patreon or PayPal.
100% of your contributions will be used for prize support and direct costs to run ARH. We appreciate your support, and may the Force be with you!