On the weekend of the 25th & 26th of June A Renewed Hope held the Coruscant Galactic Open event. Which comprised of three heats across the weekend. LiquidSnake surprised and delighted when he took Poe / Han / Ace Pilots to a 5-1 finish during Heat 2. Here he shares his experience of piloting the deck.
Poe Han Ace Pilots
Written by: LiquidSnake

Hello everyone! I'm Liquid Snake. You may know me for being a part of the Dice Commando Team and a regular in the ARH League (register here). I have been given a great opportunity to write about my Heat 2 experience during the Coruscant Open on June 25th.
Before we get into my deck choice and overall tournament report, I would like to talk about the event itself. I knew the event would be conducted in a very professional, fun, and organized manner when I found out that LandoWonka would be the tournament official. LandoWonka does a fantastic job running the most popular weekly ARH event, the Echobase weekly, and is a staple in the Destiny community. I would like to thank him for all of his efforts and hard work during this spectacular event. I was pleasantly surprised with the turn out and the diversity in the deck choices for the event. The meta in my opinion is in a very healthy place and this event was the most fun I've had since the Outer Rim Open I won with Bo-Katan Rex TMTNE.
Without further ado here is the deck I decided to bring for Heat 2:
Han Poe Pew Pew Pilots!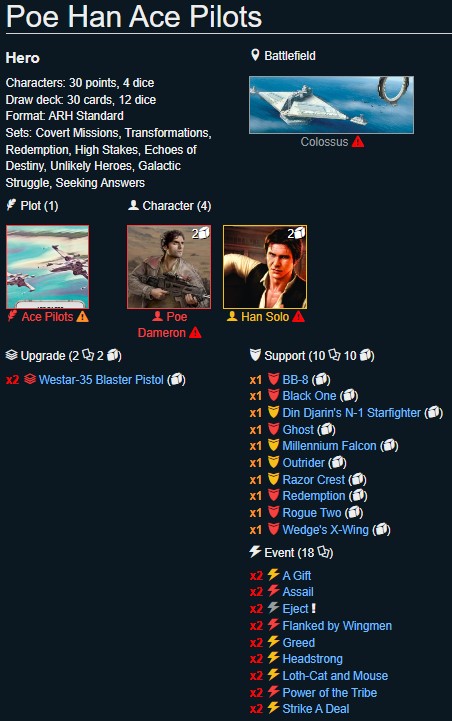 View the decklist on the ARH Database.
I wanted to bring a deck that would surprise my opponents and could potentially still beat current meta decks. Hero supports and pilots in general didn't really get touched during the last balance of the force. Also, with the removal of Desperate Measures due to rotation and the lack of support removal/counter cards being played it felt pretty safe to bring out Han Poe for Heat 2.
The deck is pretty self-explanatory. The idea is to try and ramp into multiple supports, roll guns, and fire away! My advice if you would like to give the deck a shot would be to hard mulligan for A Gift and any 2-cost vehicle support. This will allow the use of the Ace Pilots Plot, the ability to play two different 2-cost supports, or potentially the ability to play a Westar-35 Blaster Pistol and a 2-cost support.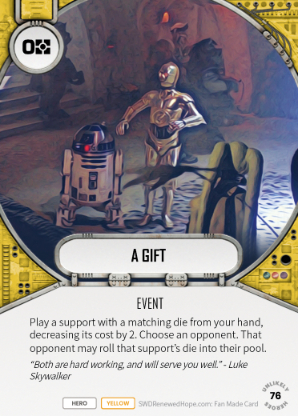 This card is a fantastic value to start the game. Yes, the opponent can leave your support die stranded in their pool, however this is certainly worth it as you are trying to build an overwhelming support board state quickly.
Going into this Heat, I expected to see more Zeb and more aggro decks. I wanted to pack a massive removal package to sustain my characters as long as possible. In total there is 14 defensive cards which is more my play style. That might seem like over kill but when facing those +3 sides with a matching base side for Zeb it can get ugly quickly. To my surprise I didn't see a single Zeb! In fact, in this heat, I ran into some very unique decks. A few that game me a run for my money.
The first match was against Pre-Vizsla Grievous Crucial Intel. This match didn't start off well as I lost Han Solo at the end of the first round. I didn't have any mitigation and my opponent was able to deal maximum pain with the dark saber and his character dice. I was however able to build a solid board state with having Redemption, Ghost, Round 1 and Rouge 2 down in round 2. I was able to take out Vizsla in round 2 and acquire the dark saber for Poe. From that point the board state was overwhelming for my opponent and I was able to take round 1.
Round 2 I was paired up with a blue hero three wide that consisted of Sifo-Dyas and two Jedi apprentices. I haven't seen this deck in a long time and vaguely remembered the proper way to target the deck. I decided to go after Sifo-Dyas to start and it was an absolute grind. It came down to time in the round. I was lucky enough to be able to deal 9 damage to tie on damage count and win based on the total number of cards remaining in my deck vs his.
The next match that came down to the wire didn't happen until I was 4-0 heading into round 5 against my "Jedi Master" Dr. Norman running Rako Kallus. Norman has been a great teacher of the game to me and I have thoroughly enjoyed our matches and discussions about the game. Whether it be deck tech, sequencing, or something as simple as resource management, Norman has always been a great wealth of knowledge and an enjoyable person to discuss these topics with. Long story short this match came down to Poe having one health remaining and rolling out 3+ dice showing damage to win the game. Norman had a very tough decision to make the round prior on rerolling two vibro sword dice and if he found a base side, I would have suffered the loss. Luck was on my side this time. "When I left you, I was but the learner. Now I am the master." – Darth Vader
In the finals, I played against Old_Ben_Kenobi who was running Bossk Fennec Hunt and Eliminate. Old_Ben_Kenobi is a great player and is from my local scene here in Toronto Canada. I have played with Ben since the Convergence Meta and was absolutely thrilled to be facing a good friend in the finals. This match was short and sweet for the bounty hunters. Bossk was too much for the ace pilots as he could move damage around with his power action and utilizing Fennec's ability to reroll his dice gave him that edge to find the 4 indirect sides and 3 melee sides needed. It really hurt to only find one vehicle in 2 rounds and an eject was needed to keep Han alive for a 3rd round. I ended up finishing in 2nd place with a 5-1 record overall.
I was very happy with my run with Han Poe and to go 5-1 with a deck that many didn't expect was a pretty cool feeling. I want to thank the DC team for cheering me on and being so supportive! I look forward to what the meta will look like going forward after this event and I hope to see more of you in the ARH monthly league now that it's completely free (register here)! In closing I only have one thing left to say:
Go Commando!
Support ARH On Patreon
ARH is a completely volunteer, non-profit organization with a single goal: To provide the best possible experience for the continuation of Star Wars: Destiny. If you enjoy our content, please consider supporting us on either Patreon or PayPal.
100% of your contributions will be used for prize support and direct costs to run ARH. We appreciate your support, and may the Force be with you!